Mega Airport Brussels V2.0
FSX/P3D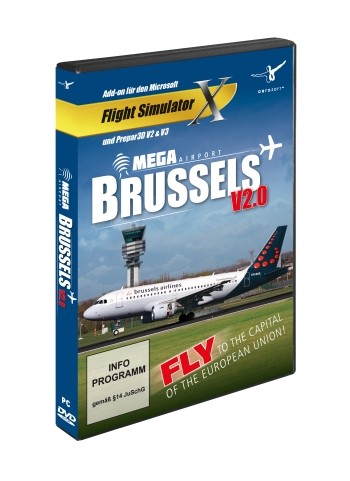 Article number:

AS12861

Publisher:

Aerosoft

Language:

Deutsch / English

USK-Einstufung:

Infoprogramm gemäß §14 JuschG

EAN:

4015918128612
Pre-order now! No airport in the world carries more VIPs than Brussels Airport in Belgium!...
more
Product information "Mega Airport Brussels V2.0"
Pre-order now!
No airport in the world carries more VIPs than Brussels Airport in Belgium! Based on state of the art modeling, this busy airport knows to impress thanks to its high level of detail. Including the airport area and its immediate vicinity - another airport you should not miss!
Based on high resolution aerial images all the airport buildings are accurately placed and thousands of objects are added to make the airport as complex as the real airport is.
It will make your flying experience to Brussels more realistic than ever!
About the Airport:
Brussels International Airport is located 10km north-east of the city center. It is located in Zaventem and Diegem communities. The airport is being operated by the Brussels Airport Company (former Brussels International Airport Company).
The airport was inaugurated in July 1958. A new cargo terminal was built in 1976. In 1994, a new terminal was built next to the original 1958 terminal. The airport is a hub for domestic and international airlines such as Brussels Airlines, European Air Transport, Jet Airways, Singapore Airlines Cargo and Saudi Arabian Airlines Cargo. It handled 18.9million passengers and 459,265t cargo in 2012. The number of aircraft movements recorded during 2012 was 223,431.
Brussels International Airport is perhaps the only airport where first class tickets are sold out first. With Brussels being the de facto capital of the European Union the airport is used by dozens of dignitaries every day. The airport is bigger than the city (and country) would suggest because of the many EU civil servants traveling to and from their own countries.
Runways :
The airport has three runways designated 02/20, 07R/25L and 07L/25R which are 2,987m, 3,211m and 3,638m long respectively. However, due to the shift of the magnetic north, the name of runway 02/20 at Brussels Airport changed to 01/19 in 2013. And now it already looks like 07R/25L and 07L/25R will need to be changed to 06/24 in a few years time.
The runways 01/19 and 07R/25L are surfaced with asphalt while the runway 07L/25R is surfaced with concrete.
About Brussels:
Brussels is the capital of Belgium and the administrative capital of the EU. It counts more than one million inhabitants. The "Grand Place" is the central square of Brussels. It is surrounded by guildhalls, the city's Town Hall and the Breadhouse and is a UNESCO World Heritage Site.
Brussels is also a big railway hub for high-speed trains from and to France, United Kingdom, Germany, The Netherlands. Brussels is the only bilingual Belgian City. French and Flemish are spoken.
Features:
Accurate representation of Brussels National (EBBR)
High quality buildings
Ground poly
Accurate AFCAD
Accurate ILS/radio frequencies
Realistic 3D lights which light up surroundings
High resolution textures
Bump Mapping
Specular
Reflections
Ambient Occlusions
Detailed photographic aerial image
---
System requirements:
Flight Simulator X (incl. SP2) or Lockheed Martin - Prepar3D V2/V3
Windows XP / Vista / 7 / 8.1
Processor (CPU): 2.6 GHz Dual core CPU
4GB RAM
Graphic card: 1 GB GPU
7 GB free disk space
Related links to "Mega Airport Brussels V2.0"