Shipping item
€20.00 *
€49.99 *
(60% Saved)
Price incl. 19% VAT plus shipping costs
Ready to ship today,
Delivery time appr. 1-3 days **
Download
Price incl. 20% VAT
Available as instant download
Attention:
Valid until 8 a.m. MEZ (UTC+1). Not in conjunction with other discounts & only as long as stocks last!
*1
*1 Offer valid until 09/04/2020
Article number:

AS10167

Publisher:

Aerosoft

Developer:

LimeSim

Language:

Deutsch

EAN:

4015918101677

Current version:

1.00
Das ultimative Sichtflug-Add-on für komplett Deutschland in 4 Teilen ! Hochauflösende Luftbilder...
more
Product information "VFR Germany 4 - Ost"
Das ultimative Sichtflug-Add-on für komplett Deutschland in 4 Teilen ! Hochauflösende Luftbilder gepaart mit 3D-Objekten bilden ein bisher nur aus der Realität gekanntes Sichtflugerlebnis.
Überfliegen Sie Ihr Haus im Microsoft Flight Simulator!
Diese Serie macht wahr, wovon Piloten und Flugsimulator-Fans schon seit Jahren träumen: Eine komplette Sichtflugszenerie von Deutschland basierend auf hochaufgelösten Luftbildern zusammen mit allen für den Sichtflug erforderlichen Gebäuden, Sendemasten, Autobahnen, Stauseen und vielem, vielem mehr! Entdecken Sie Ihre Heimat aus der Vogelperspektive, erkunden Sie unbekannte Regionen oder bereiten Sie sich mit diesem Add-on praktisch auf Ihre VFR-Prüfung vor. Beeindruckender geht es kaum: Auch im Teil "Ost" erwarten Sie Hunderte von Sichtflugobjekten mit mehreren Millionen (!) genau platzierten Wohnhäusern, Industrieflächen und Gewerbegebieten auf einer Luftbild-Fläche von 80.000 km²!
Features:
80.000 km² Luftbilder mit einer Auflösung von 1m/pix
Alle größeren Gewässer und Flüsse mit Wassereffekten
Alle erforderlichen Sichtflugobjekte wie Sendemasten, Schornsteine und vieles, vieles mehr
Exakt positionierte "typisch-deutsche" Wohnhäuser, Gewerbegebiete und Industrieflächen, basierend auf einer Datenbank aus mehr als 4,5 Millionen Gebäudepositionen!
Sämtliche Flugplätze wurden auf die Luftbilder abgestimmt
Zusätzlich exakt positionierte Segelflugplätze und Ultraleichtflugplätze
Ausführliches deutsches und englisches Handbuch
Sichtflugkarte
---
Aufteilung der VFR Germany Serie:
(Die Verlinkung auf der folgenden Karte führt direkt auf die jeweilige Produktseite)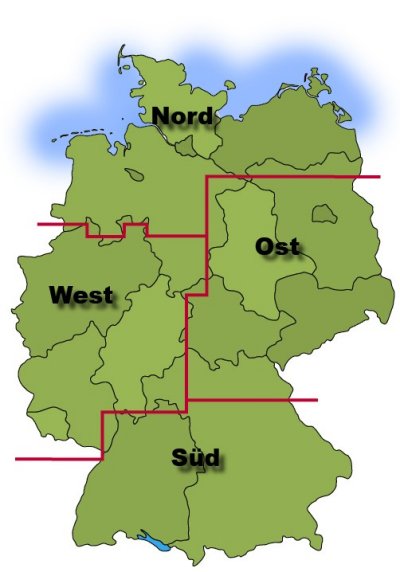 Sie möchten ganz genau wissen, ob ihr gewünschtes Gebiet auch abgedeckt wird? Mit der beiliegenden Datei können Sie mit dem Tool Google Earth genauestens nachprüfen, ob ihr Wunschgebiet in diesem Paket enthalten ist: >>Download KMZ-Datei<<
Für die Einsicht in die Gebietsabdeckung benötigen Sie "Google Earth", welches Sie kostenlos unter folgendem Link herunterladen können: http://earth.google.de/
---
Systemanforderungen:
Microsoft Flight Simulator X (SP2 oder Acceleration Pack)
Windows XP(SP2), Windows Vista
3 GHz Prozessor (Duo2Core Intel empfohlen)
1 GB RAM (2 GB empfohlen)
Grafikkarte: 256 MB (512 empfohlen)
WinRAR oder vergleichbares Tool um die Downloaddatei entpacken zu können
Dateisystem: NTFS
Download-Größe: 14 GB
Installations-Größe: 15 GB
Zusätzliche Downloads:


PDF-Handbuch (Deutsch): >> Download hier <<


PDF-Handbuch (Englisch) : >> Download hier <<
Related links to "VFR Germany 4 - Ost"