Download
Price incl. 20% VAT
Available as instant download
Article number:

AS13765

Publisher:

Aerosoft

Developer:

Peter Rosendahl

Language:

German/English

Current version:

1.9.5.2
SIMstarter NG is a start-up and configuration manager for the flight simulator. You can create...
more
Product information "SIMstarter NG"
SIMstarter NG is a start-up and configuration manager for the flight simulator. You can create various configuration profiles and start them via simple mouse click. If you want to show more details for a visual flight, and if you have to reduce this for a flight with a large, complex commercial aircraft for performance reasons, this can simply be done via different start profiles.

That's the point where SIMstarter NG comes in: NG can create different profiles for different scenarios. For a "low and slow" VFR flight you put a profile with higher LOD, greater scenery density, turn on car and boat traffic, general aviation traffic high, add two cloud layers more at the Weather Engine Active Sky Next and switches on all nice, small airfields and gimmicks at the Scenery Library (Scenery.cfg). But for the "Heavy metarl": car and boat traffic off, IFR traffic up , General aviation Traffic down , disable small airfields, because Airbus X won't be able to land there and chart tools simultaneously.

Over the years, SIMstarter NG has also established itself as a very strong configuration editor. So you can easily change and manage various configuration files of the simulator with a graphical interface. Many well-known tweaks are already preset and only have to be set.

Overview:
Management of up to 99,999 profiles per simulator platform
Several simulators can be used in parallel
Graphical administration of sceneries, SimObjects and other configuration settings
Various programs can be stored and started automatically with each profile start
Unused software can be closed automatically to save resources
All installed airports can be viewed in Google Earth for a better overview
Integrated backup of the configuration files
User settings are logged, so you can keep track of changes
Multilanguage interface (english/german)
Features:
PROFILES
Profiles can be created, edited or deleted
Different configuration settings can be assigned to each profile
Profiles can be started at the click of a mouse
You can assign different "Splashscreens" to each profile
The aircraft, parking position and date can be selected before starting (**)
Saved flights can be loaded directly and displayed in Google Earth (***)
The time can be set before starting the simulator. The system time can also be used
Flight plans can be loaded directly (also automatically the last saved flight plan)
A METAR / TAF dialog informs about the current weather
Different control profiles can be loaded
Programs that are not required can be stopped and restarted automatically after the simulator has been terminated
Different FSUIPC configuration files can be loaded for each profile
Integration of the freeware "Autogen Configuration Merger"
HIFI "Active Sky" can be started automatically with different configurations
ADD-ON.XML MANAGER (P3D V4)
Creates, edits and removes add-on.xml files for PREPAR3D
Displays all available add-on.xml files graphically
Add-on.xml files can also be created automatically from a directory structure
The add-ons can be assigned profiles so that only the add-ons that are required are started in a profile
SIMULATOR CONFIGURATIONMANAGER
Almost all configuration settings in the simulator can be adapted in configuration profiles (ConfigSets)
As well as other configuration settings and tweaks that are not visible in the simulator
These different settings can be assigned profiles so that different settings are applied to each profile
Graphical editing of fsx.cfg / prepar3d.cfg file
SCENERY CONFIGURATIONMANAGER
Sceneries can be added, modified, or removed in a graphical interface
You can create "Scenery Spacer", which makes the scenery library more transparent
Several sceneries from a directory structure can be added automatically
Sceneries can be assigned to profiles and thus become active only when they are really needed
Graphical editing of the scenery.cfg file
START MANAGER
A list of programs to start with the simulator
Programs can be added, edited, or removed from the list
The CPU priority and the cores used can be set for each program
Program can be closed automatically after completing the simulator
Program can not be started until the aircraft has been loaded (*)
SIMOBJECTS CONFIGURATIONSMANAGER
SimObjects can be added, modified or removed
SimObjects can be assigned profiles to load profile-specific objects only, which are also required
Graphical editing of the simobjects.cfg file (or [SIMOBJECTS] section in the FSX)
DLL/EXE.XML CONFIGURATIONSMANAGER
Entries can be added, edited, or removed
All settings can be edited comfortably by mouse click
Graphical editing of dll.xml and exe.xml files
ACTIVE SKY CONFIGURATIONSMANAGER
Support for Active Sky Next, Active Sky 2016 and Active Sky 2016 P3D V4
Different configuration settings for Active Sky could be added, edited, or removed
The configuration profiles are available in the profiles so that different weather settings can be made for each profile
LIVERY MANAGER
Maintains aircraft and its paintings
Aircraft can be sorted, activated or deactivated
The Livery Import can be used to add third-party aircraft painting to many aircraft
START POSITION
The starting position of the aircraft can be selected before starting the simulator (**)
The gate or parking position can also be filtered according to airline codes
Also the METAR / TAF for the destination airport can be displayed
FILESWITCHER
The Fileswitcher is a tool, which can rename files in ".off". These files are no longer used in the simulator. Time and again, scenarios require that certain files are deactivated, which can be done with the Fileswitcher simply by clicking
All file changes are logged. So you always see which file was renamed. Changes are therefore easy to undo
Presets are available for many airports (ORBX Germany North / South, etc.)
AFFINITY CALCULATOR
Many simulator platforms and systems benefit from the setting "AffinityMask"
In the Affinity Calculator, the value can be determined comfortably by clicking
Errors are let because the graphical interface only displays the cores that are also available
MAKERUNWAYS SUPPORT
Supports the freeware MakeRwys by Pete Dowson
(P3D V4) also includes sceneries from add-on.xml files
AIRPORTS IN GOOGLE EARTH (***)
All installed add-on airports can be displayed in a Google Earth map. So you have a nice overview of the installed airports
SAVED FLIGHTS IN GOOGLE EARTH (***)
It can display all saved flights in a Google Earth map. So you can see at a glance, where the fleet is "parked"

(*) This function requires the freeware version of FSUIPC
(**) For some complex Add-On aircraft, a standard aircraft must be selected here
(***) Requires the free version of Google Earth
---
Awards/Reviews: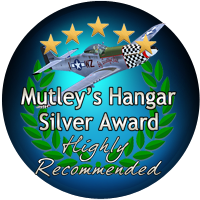 Conclusion by mutleyshangar.com:
"...once you have mastered SIMstarter NG, you may never go back to the standard way of running you sim. The program is immensely powerful, and with the added features like CleanDesk and the autorunning, Orbx region setup and Active Sky Next configuration included in the program itself, it is hard to imagine ever not using it."

Read review
---
System requirements:
Microsoft Flight Simulator X (with SP2), FSX: Steam Edition or Lockheed Martin - Prepar3D V2.4 - V4.5
Windows 7 / 8.1 / 10 (all fully updated and preferably 64 bits)
2.0 GHz processor (Intel Core 2 Duo highly recommended)
8 GB RAM internal memory
2 GB graphic card (3 GB highly recommended)
PDF reader for manual
Download-Size: 20 MB
Internet connection is required!
Related links to "SIMstarter NG"
Version 1.9.5.2:

[FEATURE] General - Auto Import of Display Settings and Resolution changes
[FEATURE] General - (P3D V4) Compatible with PREPAR3D v4.5
[FEATURE] General - (P3D V4) Added all missing Managers (Autogen, Effects, Fonts, Gauges, Prodefs, Scaleform, Scenarios, Scripts, Sound, Texture and Weather)
[FEATURE] SimObjects MGR - (P3D V4) Handle simObjects.cfg in ProgData and AppData
[FEATURE] Profile - Settings of Ultimate Traffic Live can be done in "Profile > Extended Tab"
[FEATURE] RunConfig - "WaitSimReady" has wait parameter to start programs after an defined waiting time
[FEATURE] SimConfigBackup - Added Backup Plan "Each 3rd Day"
[FEATURE] Tools - (P3D V4) Using Clear Facilities and Scenery Index remove "SceneryIndex_x64" as well
[FEATURE] Profile - Using "UTC" Checkbox auto runs "Real Time Flight Manager" (you need to set the path in Program settings)
[CHANGED] Scenario - (P3D V4) Loading Flight based on P3Dv4 SDK
[CHANGED] SceneryMGR - Forecolor changed to white if background is dark green
[CHANGED] Profile - Restarting Aero removed as not longer needed (Win7)
[BUGFIX] SimObjects MGR - SimObjects MGR shows duplicate entries fixed
[BUGFIX] AddOnXml MGR - AddOn Description Textbox shows wrong value
[BUGFIX] AddOn MGR - (P3D V4) Using Add-On.xml forced all ConfigSet Items to Active
[BUGFIX] Profile - Starting Profile causes "Keine Rückmeldung"
[BUGFIX] Show BGL - Showing duplicate BGL in some cases
Version 1.8.5.2:

[FEATURE] General - Compatible with Prepar3D V4.4
[BUGFIX] P3D V4.x - Fixed Font Color from black to white
Version 1.8.4.6:

[FEATURE] Security - SIMstarter NG.exe and up2date.exe are digital signed now
[FEATURE] Up2Date - Enhancend logging
[FEATURE] Fileswitcher - "Check all items" option added
[FEATURE] Fileswitcher - "Clear log" option added
[FEATURE] Profile - Added a new option "Keep SplashScreen on top" in Program Settings to disable that the SplashScreen will stay on top of any other application during profile start
[FEATURE] Add-On.xml MGR - (P3Dv4) Import from directory detects file in "sceneryWorld" subfolder ("scenery" and "texture") and copy them automaticly to <yourSim>\Scenery\World\Scenery & Texture
[FEATURE] Scenery MGR - Search for scenery in Title / Local (path)
[FEATURE] General - Changes in Display Resolution will be automatically moved to the Sim Master ConfigSet
[BUGFIX] Backup MGR - Source will be skipped if it contains the Backup Target Path (just in case, as this would cause a loop)
[BUGFIX] General - In some cases the variable=value will be saved in the wrong section
Version 1.8.3.17:
[FEATURE] General - Dialog "Sim is running" can be enabled in Programm settings. This dialog pops up when SIMstarter NG is ending to prevent having a running sim
[FEATURE] Profile - If no Sim ConfigSet is selected the "Use different Situation Settings" will be disabled because the sim.cfg will not be modified
Version 1.8.3.16:
[FEATURE] up2date MGR - Up2Date Manager updated to v1.3 for better error handling of corrupt ZIP files // Logo included
Version 1.8.3.15:
[BUGFIX] AddOn.xml MGR - Add from Categories will add the correct SimObjects subfolders now
[BUGFIX] AddOn.xml MGR - Add from Categories will only add "Scripts" if *.lua files are found
Version 1.8.3.1:

[FEATURE] LiveryMGR - Thumbnail Size can be switched from small to large
[FEATURE] SimCfg MGR - (P3Dv4.3) Added tweak "MaxRegionsPurgePerFrame"
[FEATURE] Startposition - Added feature to show which BGL files are used for an airport
[BUGFIX] LiveryMGR - Livery not detected correctly in some cases
[BUGFIX] Sound Setting - (P3Dv4.x) Voice Sound Slider caused wrong values
Version 1.8.0:

[FEATURE] Compatible with Prepar3D V4.3
Version 1.7.0:
[FEATURE] SimConfigBackup - Limit can be configured by users (Program settings > SimConfig Backup Warning threshold) - Default 500 MB
[FEATURE] RunManager - Added "Copy items to other RunSet"
[CHANGED] Profiles - Control definition files will be searched in MyDocuments\<YOUR SIM FILES> as well
[BUGFIX] Aircrafts - Some aircrafts are not visible within SIMstarter NG (containing TAB inside sections)
[BUGFIX] AddOnXml - (P3Dv4) Fixed Layer selection is disabled when adding new add-on categories
Version 1.6.10:
[BUGFIX] SceneryMGR - (P3Dv4) Add-On.xml shown in wrong order
[BUGFIX] AddOnXml - (P3Dv4) Fixed issue that path detection incorrect
[BUGFIX] MakeRwys - (P3Dv4) Create MakeRwys_Scenery.cfg fixed
[BUGFIX] SceneryMGR - (P3Dv4) Scenery Order wrong if using add-on.xml based sceneries
[BUGFIX] SceneryMGR - (P3Dv4) SceneryMGR shows Active if older fragment in Scenery CfgSet found
[BUGFIX] SceneryMGR - (P3Dv4) Spelling issue "Insert below"
[CHANGED] MakeRwys - (P3Dv4) Enhanced logging for Create MakeRwys_Scenery.cfg
Version 1.6.9:
[FEATURE] Compatible with P3D V4.2
[CHANGED] General - Use a copy of scenery.cfg before set all Active=True
[CHANGED] General - Airport Export logging optimized
[BUGFIX] Platformdialog - Wrong behavior
[BUGFIX] AddOnXml - (P3Dv4) Window does not resize correct
[BUGFIX] SceneryConfig - (P3Dv4) Scenery is "disabled" if older fragment in Scenery CfgSet found
[BUGFIX] Startposition - AddOn Airports detection issue
[BUGFIX] Profiles - Profiles stay in wrong color
[BUGFIX] MAKERWYS - File not replaced if newer version found
Version 1.6.4:

[FEATURE] GoogleEarth - Google Earth Export Excludes enhanced. To use them go to Settings > Google Earth Export Settings > Click "Reset" button in lower left corner of the dialog
[BUGFIX] Aircrafts - Auto update has not been disabled in some cases
[BUGFIX] SimConfig - (P3Dv4) Weather Tab had wrong order. Added "Detailed Precipitation" and "Windshield Precipitation Effects"
[BUGFIX] SimConfig - (P3Dv4) BroadcastGPSData option added
Version 1.6.3:
[FEATURE] Aircrafts - Auto update aircraft list can be disabled in "Settings" now
[CHANGED] Startposition - ICAO Code is upper case now
[CHANGED] Startposition - City and Country order changed
[CHANGED] GoogleEarth - Export is based on Scheme file now
[CHANGED] Add-On.xml MGR - (P3Dv4) Error handling improved if no add-on.xml exists but part of add-ons.cfg
Version 1.6.2:
[BUGFIX] MakeRwys - (P3Dv4) CTD if Scenery has no Layer
Version 1.6.1:
[BUGFIX] RunManager - Clicking "Test" causes "file not found" message
[BUGFIX] MakeRwys - Updated MakeRwys to Version 4.8.3.5
[CHANGED] MakeRwys - Logging improved
[CHANGED] DebugPack - (P3Dv4) Add-On.xml files included
Version 1.6.0:
[FEATURE] - Prepar3D V4.1 - Support for Prepar3D V4.1 added
[BUGFIX] - Fileswitcher - A new SwitchSet will be auto saved before switching files
[BUGFIX] - Fileswitcher - If a .bgl and .offBySIMstarterNG file exists the file has been shown as green (not the case because there is a .bgl left)
Version 1.5.0:
P3Dv4 - General compatibility with PREPAR3D v4 (works with FSUIPC5)
AS P3Dv4 - Compatible with Active Sky 2016 for PREPAR3D v4
Add-On.xml MGR - (P3Dv4) New Add-On.xml Manager to add, modify or delete Add-On.Xml files
Add-On CfgSets - (P3Dv4) ConfigSets for Add-On.xml files are available to assign to each profile
Scenery MGR - (P3Dv4) Shows items of Add-On.xml files. Layers can be changed via GUI.
SimObjects MGR - (P3Dv4) Shows items of Add-On.xml files
DLL/EXE.XML MGR - (P3Dv4) Shows items of Add-On.xml files
ConfigSets - ConfigSets can be automatically sorted (check Program Settings)
MakeRwys - Includes v4.7.0.0 (ready for P3Dv4)
SceneryMGR - HTML Export highlights ScenerySpacer for better overview
SceneryMGR - Import multiple Scenery items from one source path (searching for scenery/texture folders)
Fileswitcher - SwitchSets can be switched ON and OFF by clicking "Switch files"
Startposition - Helipads added
Livery MGR changed - Livery Import remembers the last selected import path
Scenery MGR changed - ScenerySpacer will be stored in SIMstarter NG userprofiles directory (not AddOn Scenery)
Startposition changed - Renew AddOn Airport list works together with "Refresh Airports" button
GoogleEarth fixed - GoogleEarth not installed dialog comes up every time SIMstarter NG starts
SimConfig fixed - Tooltip missing in some cases
SimObjects MGR fixed - (FSX/FSX-SE) Dialog crashes if path contains bad character (")