Shipping item
Download
Price incl. 20% VAT
Available as instant download
Article number:

AS10939

Publisher:

PMDG

Developer:

PMDG

Language:

English

EAN:

4015918109390

Current version:

1.10.1016
PMDG's award winning development team has taken 9 months to release this faithfully reproduced...
more
Product information "PMDG Jetstream 4100"
PMDG's award winning development team has taken 9 months to release this faithfully reproduced aircraft! In traditional PMDG style, no effort was spared during this extensive development process and it´s certain the J41 will quickly become a customers favorite for regional turbo prop simulation in Microsoft Flight Simulator X!
The BAe Jetstream 4100 , a classic Turbo-prop Regional Airliner for FSX
The external model has been accurately modeled to the smallest of details and painted using high resolution photo real textures. External objects can be shown/hidden using the Ramp Manager, adding to the realism and immersion - Baggage Cart, Ground Power Unit (GPU), Cones, Covers, stanchion with rope, baggage (in baggage compartments) and passengers (matches the in-cockpit load sheet). The animated parts on the J41 were carefully researched and faithfully reproduced to match their operation with the actual aircraft. The J41 sports realistically animated gear, gear doors, flaps, spoilers, oil cooler flaps, passenger and cargo doors, AOA indicators and flight deck crew.
Fully Interactive, Dynamic Virtual Cockpit - designed and animated using the same proprietary techniques developed for previous PMDG award-winning product lines, Virtual Cockpit users will truly enjoy the sensation of "being there" when flying this simulator from the fully interactive and animated 3D virtual cockpit.
Features:
Accurate external model
External objects
Aircraft animations
Fully interactive, dynamic Virtual Cockpit
Photoreal textures
Detailed aircraft systems
All avionics
Fully immersive sound
Add-on liveries
Detailed Icing model
Speed cards
Interactive Load sheet
---
Awards / Reviews:
simFlight Award 2011, 1st place in the category "Aircraft: Commercial Civilian"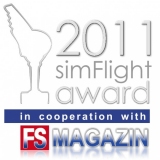 Conclusion by MutleysHangar.com:
"This add-on is fantastic, and since downloading it several months ago I've used it extensively. It might not be the best add-on for a casual simmer, but if you like spending time getting to know an aircraft and learning how to operate it correctly then it will be perfect for you... I mentioned at the beginning of the review that it was surely a match made in heaven with PMDG and Aerosoft teaming up, and indeed it is. I've thought long and hard about what score to award the J41, everything points towards a full 10/10, but I feel that the lack of extra liveries included in the download lowers to score. So I will have to award 9/10, however, this will easily become a 10/10 if more liveries were included!"

Read review
Related links to "PMDG Jetstream 4100"
Microsoft Flight Simulator X
Windows XP / Vista
Mininimum - 3GHz or multi-core processor (Dual or Quad Core Processor recommended)
1 GB RAM (2 GB recommended)
256 MB Graphics card (512 MB recommended)
Installation-Size: 500 MB
Download-Size: 220 MB
NOTE: The PC running this add-on requires an active Internet connection during installation.