Shipping item
€19.49 *
€48.73 *
(60% Saved)
Price incl. 16% VAT plus shipping costs
Ready to ship today,
Delivery time appr. 1-3 days **
Download
Price incl. 20% VAT
Available as instant download
Attention:
Not in conjunction with other discounts & only while stocks last.
*1
*1 Offer valid until 28/10/2020
Article number:

AS11735

Publisher:

Aerosoft

Developer:

Normann, Bernhart, Geocontent, Renk

Language:

English

EAN:

4015918117357

Current version:

2.00
"VFR Germany 2010 - West" is the revised version of "VFR Germany 1 - West", with numerous new...
more
Product information "VFR Germany 2010 - West"
"VFR Germany 2010 - West" is the revised version of "VFR Germany 1 - West", with numerous new VFR-objects and new high resolution aerial images. "VFR Germany 2010 - West" offers a realistic visual flight experience.
From the first version of FS, simpilots dreamed about having large areas covered with high detail aerial images and having all buildings placed in the correct locations. Well, now we can show you that we got very close to that. Using totally new technology and combining several databases this scenery offers the best representation of the terrain possible in FSX. No matter if you fly as low as 1000ft or at FL35!
Features:
95,000km² of aerial images at a stunning resolution of 1m/pix
Almost all lakes, rivers etc. with water masks (reflecting and landable for floaters)
Thousands of important VFR reference points like transmission towers, factories and much more
New custom-made autogen replacing the default autogen buildings with typical German looking buildings
Autogen buildings placed at their exact locations using a database of more than 8 Million (!) objects!
Airport runways adjusted to the aerial images
Additional glider and ultralight airfields, which were not included in FSX yet
Extensive manual in English and German
VFR map for the whole area
---
Added in the Version 2010 (V2):
New VFR-Objects:
Muengstener Bridge between Solingen and Remscheid (the highest railway bridge of Germany)
Duisburg: Citibank, Hoist tower building, Haus Duisburg (tower building in Fuzo)
Cologne: LVR Triangle tower building (next to the Cologne Cathedral)
Frankfurt: Opernturm, Palais Quartier, Messetorhaus, IBC
Essen: Zeche Zollverein
New areal images:
Yellow marked regions have been updated with new areal images, see map:


---
Parts of the VFR Germany series:
(Click on the map to go to the product page)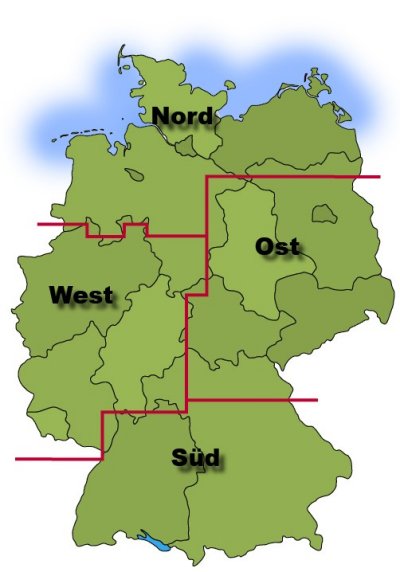 You're not sure if your desired area is included? Check it now in Google Earth using the following file: >>Download KMZ-File<<
Google Earth is required for viewing this file. Download it for free here: http://earth.google.com/
Additional Downloads:
German PDF Manual : >> Download here<<
English PDF Manual : >> Download here <<
Related links to "VFR Germany 2010 - West"
Microsoft Flight Simulator X (SP2 or Acceleration)
Windows XP(SP2), Windows Vista, Windows 7
3 GHz processor (Duo2 Core Intel recommended)
2 GB RAM
256 MB graphic card (512 MB recommended)
Sound card
File system: NTFS
WinRAR or any other program to unrar the download file
Download-Size: 14 GB
Install-Size: 16 GB
Owners of the previous version "VFR Germany 1 - West" have the possibility to use our cost saving upgrade service
VFR Germany 1 - West (Box or Download) =>VFR Germany 2010 - West (Download):
24,93 € incl. 19% VAT. (20,95 € ex VAT | Price incl. VAT may deviate depending on your local VAT within the EU). Please enter your old serial key of "VFR Germany 1 - West" in the voucher field at the checkout.

VFR Germany 1 - West (Box) => VFR Germany 2010 - West (Box)
24,99 € incl. 19% VAT. (21,00 € ex VAT). Read more at: >> CD-Upgrade-Service <<