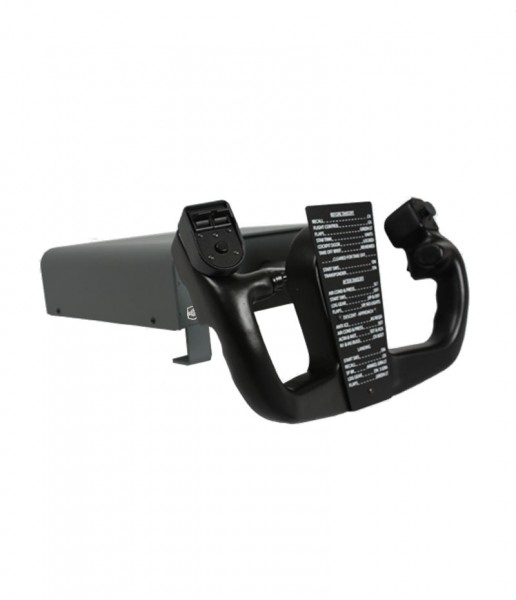 Article number:

AS12685

Publisher:

GoFlight

EAN:

4015918126854
Currently we do not have an exact delivery date for the hardware. The GF-Pro Yoke System is...
more
Product information "GoFlight - Pro Yoke System"
Currently we do not have an exact delivery date for the hardware.
The GF-Pro Yoke System is built with precision manufacturing to ensure the most authentic flight among desk top yoke systems. These units are all built with sturdy cast aluminum handle, while the chassis is made of durable steel sheet metal; both are finished with a long lasting powder coat.
These handles are modeled directly after a Boeing 737 with the same trim levers in the handle accompanied by a few other electronics we integrated to enhance the flight simmer experience. The chassis is built streamline, with a small profile which allows you to configure the unit into your simulator with minimal interference.
Features:
Push-to-Talk Switches
Elevator Trim Switch
Exterior View Selection
A/T Disengage
Interior View Hat Switch
Selectable Mouse Controller
Compatibility:
Microsoft Flight Simulator X
FSX: Steam Edition
Prepar3D
XPlane
To get the latest Config Software from Go Flight, please click here.
---
Awards / Reviews:
Conclusion by pcflight.net:
"The GoFlight Yoke System is a super solid Yoke and I think that it is the best hardware controller I've ever used for Flight Simulation. However with a price of $749.95 it certainly isn't cheap. Therefore meaning that you have to be pretty serious about Flight Sim before making such a big investment. This Yoke is perfect for those seeking something more immersive than the Saitek Yoke and over the 8 weeks I came to really enjoy flying with the Yoke! I do recommend buying it, but only if you are serious about Flight Sim and want to take it to the next level!"
Related links to "GoFlight - Pro Yoke System"