Wish list
Save your personal favorites until your next visit.
Simply add a desired product to the wish list and Aerosoft Shop will save it for you. Thus you are able to call up your selected products the next time you visit the online shop.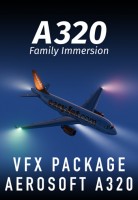 A320 Family Immersion
Manufacturer: OldProp Solutions Inc.
Order number: AS13705
Added on: 19 Aug 2019
Available as instant download