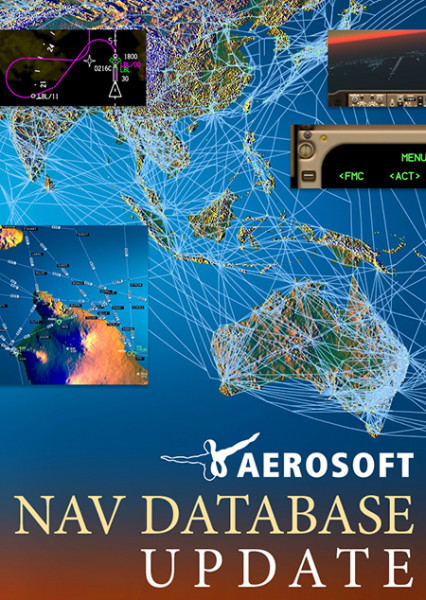 This product is currently not available.
Article number:

AS15476

Manufact./Publisher:

Aerosoft

Language:

English

Current version:

2105
Note: Nav Database Update for Aerowinx Precision Simulator is now available via our...
more
Product information "Aerowinx PSX - Nav Database Update 2021"

World-wide Nav Database Update for Aerowinx Precision Simulator, for the year 2021 (using AIRAC cycle 2105).
This database is used by the following components in Precision Simulator:
Flight Management System
EGPWS landing-short-of-runway alert (TCF)
Navaid stations and receivers
Airport communication radios and receivers
Voice-ATC and CPDLC simulation
Voice-ATIS and D-ATIS
METAR management
Instructor maps
Instructor Analysis pages
Instructor aircraft repositioning tools
Scenery generator (runways, gates, airport beacons)
Database installation:
Unzip the downloaded file into your Aerowinx Precision Simulator installation folder
This will copy the nav data automatically into the subfolder Aerowinx/Navigation/-Custom/List
Run the Precision Simulator and open the menu
"ESC–Instructor" - "About/Quit": Enable the options "Optional database for entertainment usage only" and "Aerosoft Nav Database selection enabled"
Now you can select the the "2105-Aerosoft" database from the database selection drop-down list
If you use multiple computers in a local Precision Simulator network, install the file in the same way also on those computers. With one purchased download you are allowed to use up to four database copies within your local network. Note: The selectable dates on the IDENT page of the FMS vary with the situational, simulated time of the year (refer to page 346); the date selection is intended for FMS training only, and doesn't refer to the physically installed cycle
This is the latest version 2105 for 2021.
Related links to "Aerowinx PSX - Nav Database Update 2021"
Aerowinx Precision Simulator (PSX) - Version 10.137 or higher