Shipping item
Download
Price incl. 20% VAT
Available as instant download
Article number:

AS10920

Manufact./Publisher:

Aerosoft

Language:

English

EAN:

4015918109208

Current version:

1.20(FSX),1.10(FS9)
Experience Innsbruck airport, one of the most challenging airports in Europe. Every building is...
more
Product information "Approaching Innsbruck"
Experience Innsbruck airport, one of the most challenging airports in Europe. Every building is recreated with great attention to detail and realism and is placed on high definition areal images in the great Alpine landscape.
Innsbruck Kranebitten Airport (LOWI) is the main airport of Western Austria. In the winter months it is particularly busy because of the many tourists that come for the ski slopes of the region. As the airport is located in a deep valley the approaches and departures are far from standard and many of the procedures can only be flown by pilots who got authorisation of the federal office of civil aviation. Challenging in good weather conditions, potentially lethal in the less then ideal condition.
Features:
Detailed representation of the airports placed on high resolution areal images
Includes scenery on the approach and departure routes
Seasonal and night textures (FSX Winter- and Summertextures as well as Nighttextures)
Dynamic vehicle traffic on the airport (and surrounding) based on AESLite
Fully compatible with all AI traffic add-ons
AFCAD file that incorporates the non standard procedures
All navigation aids includes
Fully compatible with AES (from version 2.06)
Fully compatible with ATP2004 and UTE (FSX and FS2004)
Animated Lead in Lights (rwy 26), Airport T and windsocks
Includes LOJO heliport on the hospital
Buyers will be offered a low cost version of Austria Professional 2004 (Download)
FSX and FS2004 version included
---
Awards/Reviews:
simFlight Award 2011, 2nd place in the category "Scenery: Major Airport"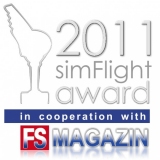 Conclusion by Avsim.com:
"This is another quality product from Aerosoft. I enjoyed every moment flying in to, from and around Innsbruck and it's one of those sceneries I'll keep returning to because of the expanded opportunities for all types of flying it offers. Heavy jet flying and learning the approaches can be a steep learning curve but a rewarding one, and then adding layers of difficulty via weather takes it to another level. Add chopper sorties and gliding and I feel you have a real destination for fun flying rather than just another airport on the way to somewhere else. The quality of the buildings and textures are stand-out for me and the night lighting, particularly in the main terminal, is second to none. Add AES Lite to this and you have a vibrant city waiting to be explored in either the warm days of summer or the frigid and potentially violent weather days of winter. Either way all virtual pilot types will find something here they will enjoy."

Read full review
System requirements for FS2004:
Microsoft Flight Simulator 2004 (Version 9.1)
Windows XP / Vista/ Windows 7
Pentium 2,6 GHz or faster
1 GB RAM (2 GB advised)
3D graphics card with at least 256 MB (512 MB advised)
Download-Size: 180 MB
Installations-Size: 560 MB
Related links to "Approaching Innsbruck"
Microsoft Flight Simulator X (SP2 or Acceleration)
Windows XP / Vista/ Windows 7
Pentium 2 GHz (Duo2Core Intel or equivalent system advised)
1 GB RAM (2 GB advised)
256 MB graphics card (512 MB advised)
Download-Size: 350 MB
Installations-Size: 480 MB