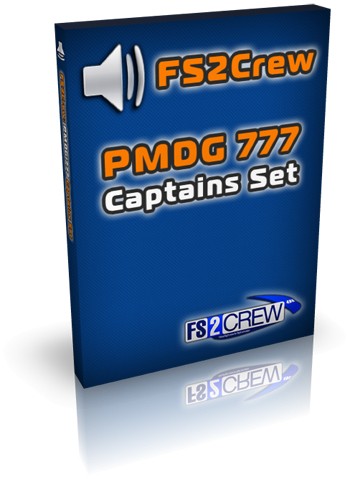 Download
Precio incl. 21% IVA legal
Disponible como descarga inmediata
N.º artículo:

AS13426

Fabricante:

FS2Crew

Idioma:

English/Français

Versión actual:

2.1
This package includes: FS2Crew: PMDG 777 (Voice and Button Control) RAAS...
más
Información del producto "FS2Crew: PMDG 777 - Captain's Set"
This package includes:
RAAS Professional Version (Upgrade your current RAAS to the Professional Version - Works with all Aircraft!)
By purchasing this package you save approx: 20 EUROS
Features of RAAS Professional:
Our version is the most sophisticated, feature-rich and technically accurate RAAS simulation on the market.
We studied the Honeywell RAAS manuals down to every last detail, and modeled every system with an eye toward achieving ultimate technical accuracy.
Built directly into Flight Simulator with no need to launch an external application.
Works with all aircraft.
Powerful user options give you complete control over RAAS, and allow for complete customization to match you or your Virtual Airline`s specific needs.
Create aircraft specific RAAS Profiles and easily link them to specific flight simulator models via our powerful Graphical User Interface.
Export and Share your custom RAAS Profiles (Airline Equipment options and Settings) with the flight simulator community.
Features of the FS2Crew: PMDG777 Voice and Button Control:
Real-World B777 SOPs (with new multiple User Configuration Options to customize your experience)
Updated Graphical Interface System
Electronic (ECL) and Paper Checklists
Passenger and Freighter Model Support
B777 specific Crew flows (Captain and FO, PF and PM)
FA interaction
Cabin announcements and Captain PAs
Works out of the box with FSPassengers and GSX/AEX
External ground/air cart handling
Multiple pack configuration takeoffs
Various approach profiles and Missed Approaches
Turn-arounds/Thru-Flights
Enlaces de continuación a "FS2Crew: PMDG 777 - Captain's Set"
Microsoft Flight Simulator X (incl. SP2, Acceleration Pack or Steam Edition) or Lockheed Martin Prepar3D (v1, v2 or v3)
PMDG 777 with SP1 (or later)
Download-size: 276 MB