Shipping item
€ 7,79 *
€ 19,49 *
(60% ahorrado)
Precio incl. 16% IVA legal más gastos de envío
Listo para envío inmediato, tiempo de entrega aprox. 1-3 días **
Download
Precio incl. 21% IVA legal
Disponible como descarga inmediata
Nota:
Not in conjunction with other discounts & only while stocks last.
*1
*1Oferta válida hasta el28.10.2020
N.º artículo:

AS11771

Fabricante:

Flight1

Idioma:

English

EAN:

5060094401447

Versión actual:

1.1
This amazing package from the renowned 'Classics Hangar' development team, includes key variants...
más
Información del producto "Focke-Wulf Fw190A"
This amazing package from the renowned 'Classics Hangar' development team, includes key variants of this incredible warbird – from early A-3 and A-4 models to the monster 2,200hp A-9. The final version of what many say was the finest piston aircraft to ever take to the skies.
The Luftwaffe most deadly fighter is simulated to award winning detail and accuracy by Classic Hangars for Flight Simulator X.
Five highly detailed FSX-native interior and exterior models are included, featuring 21 historical exterior liveries in high resolution – supporting bloom, specular bump-mapping and self shadowing.
All are individually simulated to award-winning quality and re-create German micro-mechanics in remarkable detail. Classics Hanagar's "1%" flight modelling data means you too can feel what it was like to fly one of the most feared aircraft in WWII – to a level not yet seen in flight simulation.
The Devil's in the Detail:
Models Included - A-3, A-4, A-5, A-8 and A-9: over 20 individual models flown by key German pilots from 1942 through to 1945. Each comes with detailed historical and technical information about the development of the many variants.
Individually modelled - each variant in this simulation has a unique 3D virtual cockpit with fully operable and working 3D instrumentation with German period micro-mechanics – all to a level not yet seen in Flight Simulator.
Flight Physics - each aircraft makes full use of Flight Simulator X's advanced 6DoF aerodynamic equations, including accurately modelled coupled Moments of Inertia calculations, giving the virtual pilot that 'really flying' sensation.
Exterior modelling and textures - 5 highly detailed FSX-native exterior and interior models and twenty one historical exterior liveries in 2048 pixel high resolution textures support bloom, specular, bump mapping and self shadowing. Plus an option to use extremely detailed 4096 pixel interior textures, configurable using an external texture manager application.
Custom systems and damage modelling - you can fly with the realism of custom engine damage and aircraft systems modelling or use the "Just Fly" utility to just jump in and fly. Fly the early A-3 and A-4 fighters, make the transition to early blind flying and radio navigation with the sleek A-5, progress to the versatile A-8 and master the 2200 horse power A-9.
Working bombs, payload and the "brain box"- the custom flight models take account of the operable bomb and drop tank loadings. There's even a working reflector gun sight. The Fw-190s unique 'Kommandogerat' ("brain box") – a mechanical computer which automatically controls mixture, propeller pitch, boost and magneto timing – is modelled too!
---
Awards/ Reviews:

simFlight Award 2011, 1st place in the category "Aircraft: Vintage, Space"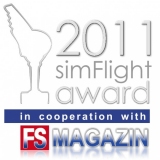 View all results

Avsim Gold Star Award, Avsim.com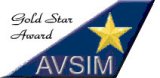 Conclusion by Avsim.com:
"The Carenado C-185F is without a doubt the most realistic and highest quality rendition of this venerable aircraft to date. Their industry leading documentation includes a well developed and comprehensive owner's manual accessible from the cockpit, and the full history on the C-185 in a beautifully created PDF. I highly recommend this package; it's a must have for any bush plane enthusiasts."

Read review
Enlaces de continuación a "Focke-Wulf Fw190A"
Microsoft Flight Simulator X (SP2, Acceleration Pack or Gold Edition)
Windows 7, Vista or XP
2.2 GHz Dual Core processor
2 GB RAM
256 MB Video card
Download-Size: 340 MB
Installations-Size: 920 MB