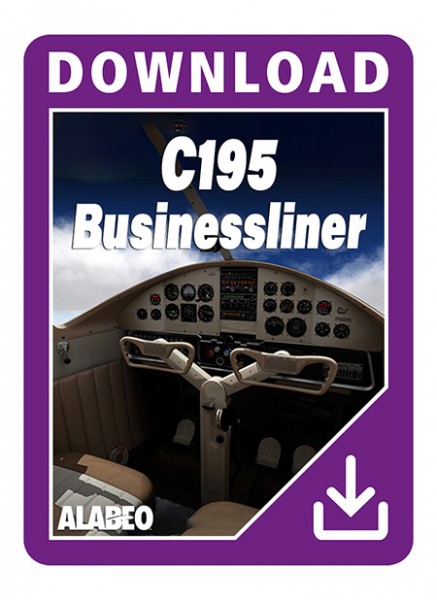 Download
Prix incl. 20% TVA
Disponible en tant que téléchargement immédiat
Réf. d'article :

AS13193

Fabricant:

Alabeo

Langue:

English

Version actuelle:

3.20
Alabeo has been brought forth with the aim of bringing a different type of flying experience to...
plus
Informations sur le produit "Alabeo - C195 Businessliner XP"
Alabeo has been brought forth with the aim of bringing a different type of flying experience to people who may otherwise never get the chance to experience it. Our Products combine the joy, the challenge and the FUN of flying.
Toward this end, we use advanced computer modeling techniques, digital texturing, and state-of-the-art programming procedures, taking advantage of the latest features in the most popular flight simulators.
Alabeo consists of a group of young and very talented modelers, designers, aviation experts, and pilots, with a unique and clear mission of developing a fun and immersive flight experience.
Features:
Only for X-Plane 10.30 or higher
hd textures
Plugin-enhanced
FPS-optimized model
Scroll wheel support
DDS textures for faster load times and optimization
HD Textures
Volumetric side view prop effect
High quality 3D model and textures
Blank texture for creating your own designs
Accurately reproduced flight characteristics
With/without fairings option
---
Awards / Reviews:
Conclusion by asn-xp.aerosoft.com (Aerosoft Sim News):
"I feel this quote really sums up what I think about this plane "True to its era and wing planform, the 195 rolls with a languorous ease—though it's far from ponderous once you've initiated a turn. Coupling ailerons with rudder is easy—the rudder is pretty effective. Pitch is reasonably light. Overall, it looks like a heavier airplane than its handling qualities suggest.... Slow flight comes easily, although we kept it to a minimum in deference to the warm July day and the reduced cooling at high angles of attack. It's not hard to push oil temps into the 200-plus range in hot weather. I would recommend this plane who want to fly a vintage tail dragger, with a modern set of avionics minus the GPS. See this AOPA site for more information. In my opinion this plane would not have that vintage feel if it were to have a GPS. I find that for online ATC flying like on PilotEdge this is a nice plane."

Read review
Liens supplémentaires vers "Alabeo - C195 Businessliner XP"
Windows XP or Windows Vista or Windows 7 (32 or 64 bits) or MAC OS 10.6 (or higher) or Linux
X-Plane 10.30 (or higher) - not compatible with XPlane 11
2.5 GHz Processor (Intel Core2Duo recommended)
2 GB RAM
3D graphics card with minimum 512MB (1024MB recommended)
104 MB available hard disk space
Download-Size: 105 MB