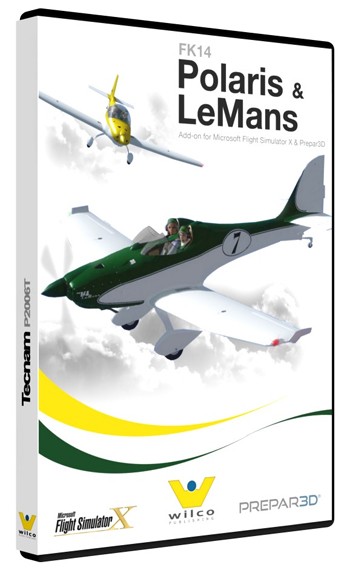 Download
Prezzi incl. 22% IVA
Disponibile come download immediato
Numero Ordine:

AS13398

Publisher:

Wilco Publishing

Lingua:

English

Versione corrente:

1.10
If you want to test the aircraft there is also a free trial Version aviailable. With an ultra...
altro
Informazione prodotto "Wilco FK14 Polaris & LeMans"
If you want to test the aircraft there is also a free trial Version aviailable. With an ultra modern design and an outstanding 360° panoramic view, get ready to fly the FK14 POLARIS or race the FK14 LeMans in your favorite flight simulator: Microsoft Flight Simulator or Lockheed Martin Prepar3D.
Exterior model:
Two FK14 Polaris models are simulated:  FK14 Polaris Executive and FK14 Le Mans Sportster
Built over the best plans available, these model bring this brilliant little design to life
17 different liveries
Huge reflective bubble canopy in the Polaris and twin streamlined fairings in the LeMans
Amazing high resolution reflective textures include light "splinter" effects in direct sunlight!
High-gloss finishes replicate the smooth composite materials used in the real thing
Fantastic levels of detail stretch to individual nuts and bolts, rivets and wire controls
Full detailed Rotax engine beneath a removable engine cover
Ballistic Parachute Recovery System is modeled and simulated
Realistic attractive male and female pilots are fully animated
Fully operational instruments in each exterior cockpit!
Security and "remove before flight" display features
High quality digital stereo sounds
Optimized modelling techniques used to ensure high frame rates while maintaining beautiful visuals
Full professional Paint Kit supplied
Unique fully interactive racing number and pilot name applicator for the LeMans!
Interior model:
Each version features a complete 3D virtual cockpit with multiple functional switches, knobs and levers.
Using the very latest in modelling and texturing techniques, the interior is practically real!   Every switch, knob and lever works just like the real thing.
Beautiful leather interiors look and feel like a luxury sports car
Fully equipped instrument panels with Accu-glidetm  needles and crisp, accurate scales
Custom animations and programmed code replicate the real instruments and controls
Fully functional navigation is possible on both aircraft with Nav1, ADF, GPS
Authentic Garmin avionics include functional authentic autopilot, transponder and comms
Engine choke available for realistic starts
New added features:
Accu-glowtm exterior night lighting. Light casts a glow onto the model and onto any moving parts that occlude the light. Extremely realistic lighting results
Accu-glidetm needles are super smooth animated needles for the analogue gauges. Developed to combat poor frame rates in multiple gauge cockpits
General Features:
Compatible with Microsoft Flight Simulator X and Lockheed Martin Prepar3D
'Blank livery' Paint Kit to create your own paint schemes (PhotoShop required) HERE
DX10/DX11 compatible
Frame-rate friendly
Easy-to-use operating manual and Garmin Avionics manuals supplied (simulation only)
Checklists and performances tables supplied
FLIGHT DYNAMICS have been programmed according to manufacturer's specifications
---
System requirements
Windows XP 32 with SP3 installed, Vista 32, Windows 7 32/64, Windows 8 32/64.
Microsoft Flight Simulator FSX with SP1 and SP2 (or Acceleration Pack)
Lockheed Martin Prepar3D v1.4 and v2
Pentium V/2GHz or similar
Minimum 4GB RAM (8GB recommended)
512 MB graphic card
636 MB Hard disk space
Additional Downloads:
Blanko Livery >>Download<<
Demo Version >>Download<<
Link correlati a "Wilco FK14 Polaris & LeMans"
Windows XP 32 mit installiertem Service Pack 3, Vista 32, Windows 7 32/64, Windows 8 32/64
Microsoft Flight Simulator X mit Service Pack 1 und 2 (oder Acceleration Pack) oder Lockheed Martin Prepar3D v 1.2 und v2
Pentium V/2Ghz oder vergleichbar
mindestens 4 GB RAM (8 GB werden empfohlen)
512 MB Grafikkarte
636 MB freien Festplattenspeicherplatz