Download
Prezzi incl. 22% IVA
Disponibile come download immediato
Numero Ordine:

AS10849

Publisher:

Aerosoft

Lingua:

English

Versione corrente:

1.21
The F-16 Fighting Falcon is a multirole jet fighter build by General Dynamics for the US Air...
altro
Informazione prodotto "F-16 Fighting Falcon"
The F-16 Fighting Falcon is a multirole jet fighter build by General Dynamics for the US Air Force. The lightweight fighter became the ubiquities fighter as it was exported to 25 nations and a record breaking production of over 4,400 aircraft. Updated every decade it remains the basic fighter for nations worldwide. Apart from being a very serious fighter it remains about the most enjoyable aircraft to fly with the superb maneuverability and power that allows vertical climbs. Visibility is unparalleled in the frameless bubble canopy. This enjoyment remains fully intact in FSX.
The Aerosoft version includes the most used versions in the highest possible detail. With close to half a million vertices it most likely is the most detailed aircraft ever designed for FSX. The realism of this product is great that parts of the product are sold to professional users and is used in the first stages of training of pilots in 3 countries. Where other internally developed aircraft try to merge all existing models into one 'universal' model, the F-16 was designed with pure realism in mind, down to the smallest detail each of the 21 models is as the real aircraft patrols the skies. In FSX the F-16 is a joy to fly, with the controllability of a light aircraft and capable of altitudes of 50.000 feet and speeds exceeding Mach1. It is extremely agile yet easy to control (it will fly where you point the nose) it allows you to explore the environment of FSX like never before.
Features:
A, AM and C models
General Electric F110-GE-100 and Pratt & Whitney F100-P-220 engines
F-16C Block 50/52 Current and A MLU cockpits
21 different external models
21 different flight models
61 different liveries
External loads

AIM-120 AAMRAAM
AIM-9 Sidewinder
Smokewinder
AIM-2000 IRIS-T
GBU-12 Paveway II
AGM-88A HARM
External wing 370 tank
Conformal fuselage tank
AN/ALQ-131 ECM pod
AN/ALQ-184 ECM pod
External fuselage tank 300
AN/AAQ-33 Sniper
AN/AAQ-28 Litening
AN/ASQ-213 HTS

Countries covered

Belgium
Chile
Denmark
Egypt
Greece
Italian
Israel
Netherlands
Norway
Poland
Portugal
Singapore
Taiwan
Turkey
USA
Venezuela

Realistic (within FSX possibilities) Integrated Control Panel, Data Entry Display.
Realistic (within FSX possibilities) Air target radar with tracking options
Realistic (within FSX possibilities) Navigation display including terrain display
Realistic Stores Management Screens
Realistic Heads Up Display (actually sold for professional use)
Semi realistic In-flight refueling possible from every AI Airliner
Includes two demanding and realistic missions to test your skills
Fully licensed by General Dynamics
Please note that this product is 100% focused on flying the F-16 and none of the offensive and defensive systems are modeled (though the radar allows tracking AI aircraft). There are also no ground objects that appear when parking brakes are set etc. Every last byte has been used to model the pure aircraft. So do not expect bombs that fall off, missiles that speed toward targets or ground power units.
---
Awards/Reviews:
Avsim GOLD Star Award, Avsim.com 2008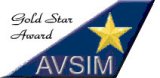 Conclusion by Avsim.com:
"Aerosoft sells the download version of F-16 Fighting Falcon X for 30 euros, fewer if you don't have to pay VAT. (At today's exchange rate, U.S. buyers can get it for about $33.) That's good for what you get. Detail is high, frame rates are flyable, there's a wide variety of configurations and liveries, and the heads-up display is more realistic (and therefore more useful) than any we've seen before in Flight Simulator. ... It used to be that AVSIM only gave its highest rating, five stars, to products that break new ground; that rating system was abandoned before I came on board as a reviewer, but this product would have earned its fifth star. It's not often that advanced products are also affordable, but this one is. For its combination of features, innovation, and affordability, we award this product the AVSIM Gold Star"
Conclusion by Sim-outhouse.com:
"The Aerosoft F-16 Fighting Falcon represents a milestone in my experience with Aerosoft. I've always been happy with their aircraft, but here they have gone above and beyond and created an aircraft which holds all of what makes FSX so fun: as much programming as the limitations of the sim permits, a beautiful model, and simply fascinating gadgets and features which make this aircraft such a winner. I am very pleased with the sheer exhilaration which comes from flying this, and I can't say how pleased I am to see such a beautiful reproduction of an aircraft which has been neglected in the simulator."
Additional downloads :
English PDF-Manual : >> Click here <<
German PDF-Manual : >> Click here <<
French PDF-Manual : >> Click here <<
Spanish PDF-Manual : >> Click here <<
Link correlati a "F-16 Fighting Falcon"
Microsoft Flight Simulator X (SP 2 or Acceleration)
Windows XP/Vista with the latest Service Packs (XP recommended)
Intel Core 2 Duo CPU (2x 2666Mhz) or equivalent (Core 2 Quad CPU recommended)
2 GB RAM
DX9 Graphic Card with at least 256 MB (512 MB strongly recommended)
Joystick/Throttle with programmable buttons highly recommended
Download-Size: 700 MB
Installations-Size: 2.8 GB