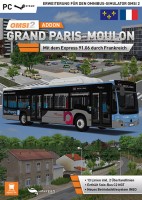 Halycon
OMSI 2 Add-on Grand Paris-Moulon
Bienvenue en France! Now, after the OMSI-Map Saint-Servan, we are heading back to France. The Add-on Grand Paris Moulon - With the Express 91.06 through France from developer Creations AgoraS-114 plays in the area south of Paris. Also in...
Halycon
OMSI 2 Add-on C2 City Bus Family Vol. 1
The new C2 city bus family is a vehicle add-on created by OMSI 2 fans for OMSI 2 fans. A total of 7 different versions of the popular C2 bus are waiting to be used in the OMSI 2 bus simulator. No matter whether 2-, 3- or 4-door, solo or...