Download
Price excl. VAT
Available as instant download
Article number:

AS10101

Publisher:

Aerosoft

Developer:

Ehlers, Werlitz

Language:

Deutsch / English

Current version:

1.00
Although Scenery Germany - Bremen covers a rather small area in the northwest of Germany it is...
more
Product information "Scenery Germany - Bremen"
Although Scenery Germany - Bremen covers a rather small area in the northwest of Germany it is the most eye-catching scenery of a German city ever! Based on small scale topographical maps and many thousands of images, the complete terrain has been recreated.

Features:
8 highly detailed airfields and glider fields
4 helicopter landing locations
All important VFR reference points like transmission towers, high tension lines, factories and much more.
All roads, rivers and train lines
Mesh terrain and manually placed landclasses
Coastlines and dikes
Matches perfectly to Scenery Germany and German Airports
Extremely detailed city scenery of Bremen
Bremen city has been covered with a high quality aerial image
Bremerhaven and Cuxhaven with all important VFR landmarks
Many special landmarks in high detail (ships, bunkers and more!)
Smart design techniques used for best performance
Extensive manual in English and German
This scenery is a perfect expansion for Scenery Germany 2, but you can also use it as a standalone product. Bremen is the largest city in the outer northwest of Germany. Together with Bremerhaven it was one of the main bases of American troops after World War II and nowadays Bremen is famous for its Technical University. A lot of research on space flight is done here and from the sky above the city you will see the famous "Zero Gravity Tower".
Discover the area from the lowlands around Bremen up to the rough and stormy North Sea coast around Cuxhaven and Bremerhaven (this is where Elvis arrived on military duty in Germany in the 50ies).
List of detailed airfields:
| | |
| --- | --- |
| EDXQ | Rotenburg/Wümme |
| EDWV | Verden/Scharnhorst |
| EDWK | Karlshöfen |
| EDWQ | Ganderkesee / Atlas Airfield |
| EDWB | Bremerhaven am Luneort |
| | Tarmstedt/Westertimke |
| | Hoya |
| | Nordenham Blexen |
Heliports:
Kraftwerk Farge/Weser
Klinik Bremen Links der Weser
Klinik Bremen Mitte (2 heliports)
More heliports at some airfields..
Other airfields in the area (only runways, not detailed):
| | |
| --- | --- |
| EDXS | Seedorf |
| EDXU | Hüttenbusch |
| EDWM | Weser/Wümme |
| EDWD | Lemwerder |
| EDXZ | Bederkesa |
| | Große Höhe |
General map: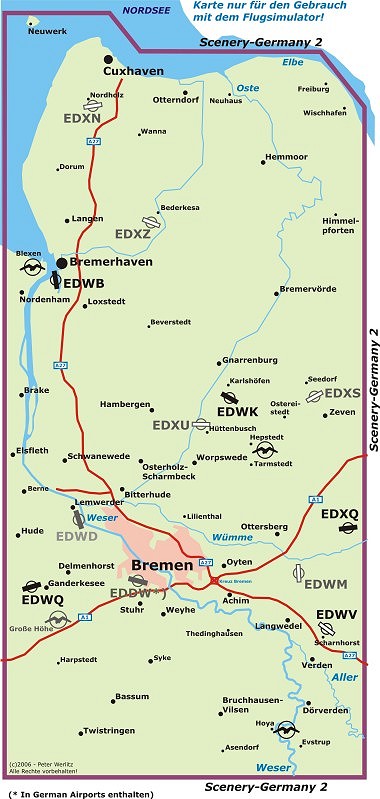 ---
System requirements:
Microsoft Flight Simulator 2004
Windows XP / Vista / 7
Pentium III from 2,4 GHz
256 MB RAM
3D graphics card with 128 MB RAM
Download Size: 47 MB
Install Size: 200 MB
Related links to "Scenery Germany - Bremen"