FS2Crew: MadDog Voice Commander Edition
FSX/FS2004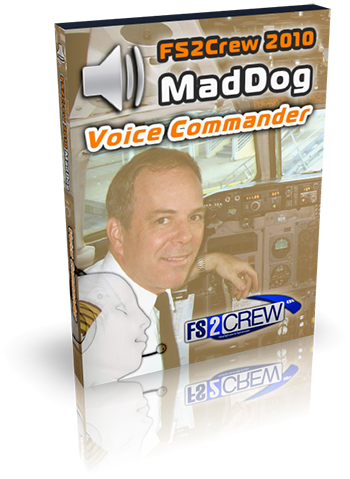 Download
Price excl. VAT
Available as instant download
Article number:

AS11207

Publisher:

FS2Crew

Language:

English

Current version:

1.00
But now's your chance to take your Maddog to a higher, more realistic level by adding...
more
Product information "FS2Crew: MadDog Voice Commander Edition"
But now's your chance to take your Maddog to a higher, more realistic level by adding FS2Crew's custom airline crew expansion pack to the simulation.Designed in close consultation with a current, real-world MD-80 First Officer, this new edition of FS2Crew is one of FS2Crew's best - and most realistic!
Note: This version of FS2Crew supports both the FS9 and FSX versions of the Leonardo Maddog 2008.
A word from real-world MD80/90 First Officer Samuli Sutinen:
"I am an active MD 80/90 pilot flying for a European airline.  When I saw the result of this add-on, I was very surprised about the level of realism and detail.  Numerous aspects have been considered concerning the operation of this specific aircraft type, from normal airline operations to realistic SOP handling and crew interaction.  All of this definately makes this FS2Crew release the most complete multicrew package available, especially for the MD80 series aircraft."
Product Highlights:
Customized to work exclusively with the Leonardo Maddog aircraft and match MD80 SOPs.
SDK style functionality: The simulated First Officer can control almost every switch on the aircraft WITHOUT using simulated mouse clicks.
Control the autopilot using voice control!
Full voice control integration:  Interact with the flight, cabin and ground crew using your voice!
Realistic Maddog checklists!
Real human recorded United States, German,  British, French, Irish, Dutch, Italian, Spanish and Finnish voice sets included for the First Officer.
United States and Finnish voice sets recorded by real-world Maddog airline pilots!
Checklists, flows and crew interaction designed by a real-world Maddog pilot!
FA Cabin announcements with independent adjustable volume control.
Integrated Pushback/Start Crew.
Integration options with AES and FSPassengers.
First Officer takeoffs.
New features such as the ability to 'mute' the speech recognition system on the fly using a push-to-hold key.
And a whole lot more!!!
 
Notes for users running home Networks:
Because the speech recognition engine is built into a gauge file that gets loaded via the host aircraft's panel.cfg file on your main Flight Simulator computer, the software is not networkable. A microphone or headset needs to be connected to your Flight Simulator computer.  For a suggested work around, please see this thread in the FS2Crew forum
---
System requirements:
Leonardo Maddog 2008 V3.0 or later (Professional or Standard Versions).  Aircraft not included. Click here to visit the Leonardo website if you do not yet own the aircraft
Flight Simulator X or FS2004/FS9
Win XP, Vista, Windows 7
Microphone and/or Headset
Windows Speech Recognition language setting must be set to English if using XP or English - US if using Vista or Win 7
Download-Size: 160 MB
Related links to "FS2Crew: MadDog Voice Commander Edition"