Corporate responsibility
Here, you will find a selection of projects that we have supported in the past. In addition to projects in Ethiopia, we also help with selected local projects.
Donation project "Patenschaften von Mensch zu Mensch"

For quite some time, Aerosoft has been supporting humanitarian projects in Ethiopia in cooperation with the Peckelsheim-based organization "Patenschaften von Mensch zu Mensch". In the past, projects like "Orphanage and school in Guder" and "Healt-Care in Jimma-Bonga" could be completed. Now, Aerosoft is supporting the project of further developing the Disability Center.

With this project, further premises shall be added to the existing Disability Center which was build a while ago with help of donations from Aerosoft and others.

We ask our customers to assist this project. You can do so by adding 3 € or 5 € to your order. The money will FULLY be forwarded to the organization running the building of the Kindergarden. Below, you will find more information about this project, previous projects and our donation account since 2008.
Donation of a PC for Jan-Luca
When the fire brigade Mülheim / Ruhr and we, the Aerosoft GmbH got a letter from Jasmin, the mother of a 10-year-old boy named Jan-Luca, we were very touched.

Jan-Luca is an autistic boy and his passion is the fire brigade - especially the fire station Mülheim / Ruhr and also the game "Emergency call 112 - The Fire Fighting simulation" inspire him very much. Unfortunately, Jan-Luca's laptop broke down, which is why he can no longer play the simulation.

We visited the fire station in Mülheim together with Jan-Luca, his mother Jasmin and Carsten from Crenetic. After an exciting tour of the fire station, Jan-Luca was once allowed to climb into a fire engine. As a highlight at the end, a new PC was handed over to Jan-Luca, on which he can now play "Emergency Call 112 - The Fire Fighting Simulation" again. "Many, many thanks for the unforgettable day, the PC and much more. Jan-Luca is still smiling ", says Jan-Luca' s mother Jasmin.


Sale of Careware for the children's hospice Balthasar
A completely different donation project is this one: The Hamburg-Finkenwerder Airport, the birthplace of the well-known Airbus aircraft, was developed by Dieter Kreiskott for FSX, FSX:Steam and Prepar3D V4 and is sold via Aerosoft as a Careware. This means that Aerosoft takes over the distribution and passes on the net revenue from this scenery as a donation to the children's hospice Balthasar in Olpe. Within the first two months, almost € 10,000 have come together to help children and their families.
We live integration!
In addition to donation projects, we are also involved in other projects. This includes, among other things, the integration of refugees. An example of this is Amir from Syria. Amir came to Germany in autumn 2015 and initially completed an internship with us. Since this was very successful, he is now hired as a trainee for 3D design and fully integrated into the team.
Innovative through research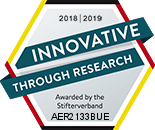 The Donors' Association for the Promotion of Sciences and Humanities in Germany has awarded us the "Innovative through Research" seal of approval for our research activities.