Commercial use
Products of Aerosoft have reached a realistic standard to be used in commercial and professional simulation environments. As a specialist in development, modeling and marketing of highly realistic terrain- and Geo data, Aerosoft GmbH offers high end graphics solutions for professional simulators. Our 3D-models are being used in Commercial, Full-Motion Simulators, Flight Safety centers and Flight Schools.

On demand we can deliver data in various formats such as OpenFlight and 3D Studio Max or we can customize it to the special needs of the customer. The application range is manifold and not only interesting for the aviation industry, as for example our Helgoland scenery is used in marine education.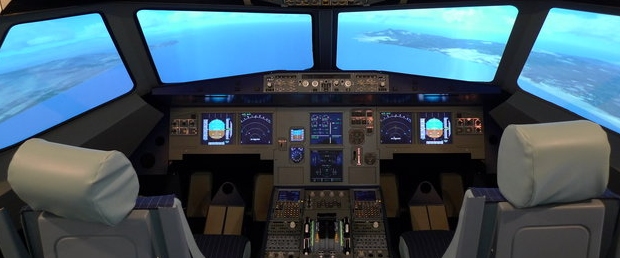 Image source: A320- Simulator by Flightdecksystems
Use of our standard products in commercial applications:

Using our standard products in a commercial application requires a special license. This commercial license allows the customer to use the product for commercial purposes. This includes the use of products in Flight School education, commercial Flight Simulators (renting, etc), Flight Simulators for in-company use, marketing and publication of images or videos created using this software.
The license is valid for one station/simulator which is based on Microsoft Flight Simulator or Prepar3D or X-Plane independent of the count of PC´s used for this station. When operating more than one station/simulator a license for each station/simulator is required.
Contact:

Technical questions and information:
Ing. Guenter Zehnel
guenter.zehnel@aerosoft.com

Prices and conditions:
Volker Brüggemann
volker.brueggemann@aerosoft.com