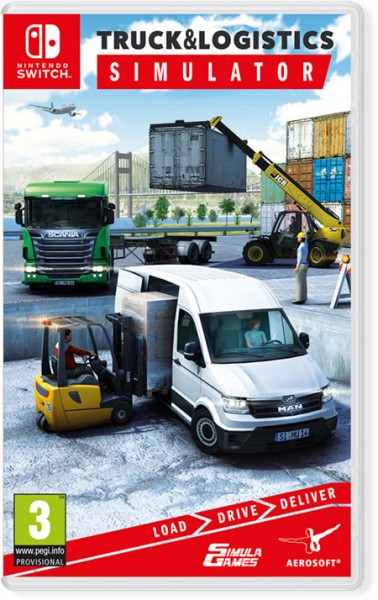 This product is currently not available.
Article number:

AS14481

Publisher:

Aerosoft

Developer:

Simula Games

Language:

GER/ENG/ESP/FRA

EAN:

4015918144810
In development! Become the head of your own logistics chain with the new Truck & Logistics...
more
Product information "Truck & Logistics Simulator"
In development! Become the head of your own logistics chain with the new Truck & Logistics Simulator and experience a comprehensive economic system as well as exciting adventures in single or multiplayer mode. Work carefully to get your semi-trailer or delivery van safely to its destination even in difficult weather conditions: pick up and deliver your cargo at any time.
Because of the realistic calculation of fuel consumption, it is important that you do not forget to take a break at the gas station. Collect experience points and earn money by completing various missions. But be careful: your experience points and mission rewards will be reduced if you damage the cargo or disregard the traffic rules. Always stay focused! The missions take place in a freely navigable Open World where you can use the GPS to get to your destination.
Start your mission by accepting one of many assignments with your vehicle and load it with a forklift or crane afterwards. In order to work as efficiently as possible, choose the right one from a large selection of logistics vehicles. Do you need variety? Just accept a mission at night and hit the streets in the dark.
Face various challenges and grow with your tasks playing the new Truck & Logistics Simulator.

Features:
Load your vehicle by using loading vehicles from logistical areas (forklift, loader, crane etc.)
Multiplayer with cooperative missions to make convoys and deliver together with your friends
Deliver vehicles (cars, forklifts, wheel loaders, ATV's) by loading them on the trailer
Day/night cycle and realistic weather, including fog, rain, and snow
GPS system: follow GPS on the minimap or vehicle interior to reach the destination
Attach a trailer to your vehicle (car/van/pickup) to increase cargo capacity
Fuel system: because of the realistic fuel consumption calculation you have to refuel your vehicles at gas stations
From minivans to heavy trucks: purchase vehicles and increase your vehicle fleet
Traffic with realistic physics
Off-Road paths: dangerous off-road mission routes
24 square kilometer map, where you can drive anywhere without hidden walls
Over 20 different vehicles like trucks (semi/rigid); vans; flatbed vans; pickups; cars; monster trucks
---
System requirements:
Nintendo Switch
Free disk space (for download version): tba
Related links to "Truck & Logistics Simulator"