Fernbus Simulator - France
Fernbus Coach Simulator Add-on
This add-on adds the country of France to the world map of Fernbus Simulator. Expanding the...
more
Product information "Fernbus Simulator - France"
This add-on adds the country of France to the world map of Fernbus Simulator. Expanding the entire game world of the original Fernbus Simulator by more than 150%, adding 20 new cities, and 1836 additional kilometres of roads.

Plenty of new graphical assets await you, such as well-known sights and landmarks, e.g. the Eiffel Tower, Arc de Triomphe, Louvre, Viaduc de Millau, Basilique Notre-Dame de la Garde, and many more. Traffic signs, boards and lights are true to original, just like many other props from the country of France which make it so distinguishable and unique. We are sure you will recognize the flair of France in this add-on.

Paris itself is the largest city we've ever recreated for Fernbus Simulator, not only due to its monumental sights but also due to its typical sightlines, e.g. along the Avenue des Champs-Élysées. And the city features even two bus stops to compensate for its size. Among these bus stops, you will find Fernbus Simulator's first-ever underground bus stop at Quai de Bercy.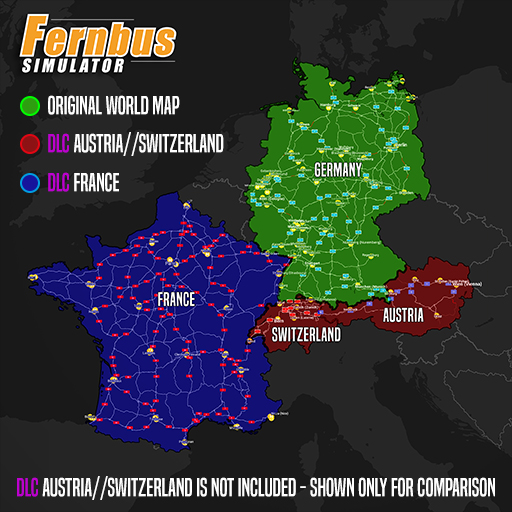 Features:
Seamless extension of the world map - without any loading times between regions
Expands the world map by 150%
Adds additional 1836 kilometres of road
List of the 20 new cities in non-alphabetical order:

Paris (includes 2 bus stops)
Lille
Rouen
Reims
Brest
Rennes
Nantes
Tours
Dijon
Strasbourg
Limoges
Clermont-Ferrand
Lyon
Grenoble
Bordeaux
Biarritz
Toulouse
Perpignan
Marseille
Nice (Airport only)

Adds lots of characteristic sights, landmarks and point of interest
Almost every bus stop or station is true to original
The great landscape of France with many recreated features including:

The French Alpes, Massif Central, and the Pyrenees
Many viaducts, including Europe's tallest: The Viaduc de Millau
The country's main rivers of Seinem Loire, Charente, Dordogne, Garonne, Meuse, Rhône and Rhine
Travel all across the country from the Mediterranean Sea, along the Atlantic coastline to the English Channel

License Plates of 95 Departments of France
AI-vehicle repaint Gendarmerie Nationale
12 Regions of continental France:

Grand Est
Nouvelle-Aquitaine
Auvergne-Rhône-Alpes
Bourgogne-Franche-Comté
Brittany
Centre-Val de Loire
Île-de-France
Occitanie
Hauts-de-France
Normandy
Pays de la Loire
Provence-Alpes-Côte d'Azur
Related links to "Fernbus Simulator - France"
Fernbus Coach Simulator
Operating System: Microsoft Windows 7 / 8 / 8.1 / 10 (only 64bit)
CPU: Intel Core i5 or comparable with at least 2.6 GHz
RAM: 6 GB RAM
Graphics card: Nvidia GeForce GTX 560 or comparable, DirectX 11 (No support for Onboard graphics)
Storage: 43 GB available space
Sound Card: Yes
Internet connection and Steam user account required.
Notes: We provide a serial number with the purchase of this download version. Afterwards, you need to download this add-on via STEAM and activate it. Further information can be found in the installation instruction.