Download
Price excl. VAT
Available as instant download
Article number:

AS12339

Manufact./Publisher:

Aerosoft

Developer:

sim-wings

Current version:

1.01(FSX),1.00(FS9)
Fairbanks International Airport is a state-owned public-use airport located three miles (5 km)...
more
Product information "Fairbanks X"
Fairbanks International Airport is a state-owned public-use airport located three miles (5 km) southwest of the central business district of Fairbanks, a city in the Fairbanks North Star Borough of the U.S. state of Alaska. The airport serves many cargo airlines as a convenient refueling stop for some aircraft on trans-polar routes.
Fairbanks is served by a number of passenger airlines. Era Aviation and Alaska Airlines serve the airport all year-round. Delta Air Lines, Frontier Airlines, and recently United Airlines have an additional service in the summer. Fairbanks is the smallest city in the United States with non-stop service to Europe, as Condor Airlines offers weekly flights to Frankfurt during the summer tourist season.
Features:
Fairbanks International Airport (PAFA) with all buildings including the new passenger Terminal
3D-approach lights
Accurate representation of the real Airport using more than 1000 photos taken at site when building the 3D models
FSX, Prepar3D and FS2004 included (the FS2004 version may vary in features)
Aerial picture for the airport ground with detail layers
Near surroundings of the airport with aerial picture, landclasses, autogen and edited roads, lakes, rivers to perfectly blend to the default terrain (also compatible with UT Alaska)
Main RWY 20R/02L, GA paved RWY 20L/02R, Lake for Float Planes, Winter Ski Strip (SKI02/SKI20)
Realistic ground markings
Custom RWY approach lights on poles, Rwy lights, PAPIs, wigwags and beacons, directional center taxiway light, (only visible from front, as in reality)
AES Lite with driving cars and utility cars airside and at the surroundings areas (FSX and FS2004 only)
Animated Alaska Railroad cargo train passing the RWY 02L approach. Locos are shunting on tracks at the destination to drive back with the wagons (FSX and FS2004 only)
Seasonal textures for summer and snowy winter (perfect blend at all seasons)
Automatic seasonal change corresponding to FSX seasonal changes
Superb volumetric pre-rendered night light textures for lights and shadows at ground and buildings
Hundreds of light poles and electricity/phone poles
Static DC 6 aircraft serving as spare-part donators
Static float and GA planes at airport´s GA side
Custom AFCAD files
Compatible with Airport Enhancement Services (AES) (FSX and FS2004 only)
---
Awards/Reviews:
Winner of the simFlight Awards 2012 - Category: Regional Airports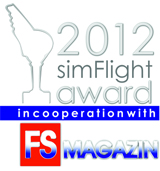 View all results
Fazit von FlightSimulatorNetwork.com:
"SimWings & Aerosoft has produced another outstanding product with Fairbanks X. At $23.49 USD or 21.95 Euros, Fairbanks X is a wonderful value. The scenery has great looking building textures on both the landside and airside of the airport, static vehicles & aircraft look great, seasonal textures are included, impressive airport vehicle, landside vehicle, train animation & sound effects, the lighting effects and animations are also very good and system performance was not an issue at least on my modest computer system with all of the animations activated. Unfortunately, there were a couple of minor issues that prevent me from awarding Fairbanks X with a perfect four star rating. First I would like to see at least one static aircraft camping at the airport campground. One of the animations that added to the realism of the Anchorage X product was the animation of the security gate that opens and closes when you are near it. None of the security gates with Fairbanks X are animated which is a disappointment to me. My reasoning for this is that if you are going to have realistic moving airport vehicles, at some point they going to use one of these gates. As I said at the start of this conclusion, even with these two minor issues, Fairbanks X is still an outstanding scenery product that I will enjoy having installed on my system."

Read review (PDF)
Additional downloads:



.PDF-Manual for the FSX-Version (German/English): >>View here<<



.PDF-Manual for the FS2004-Version (German/English): >> View here <<


Related links to "Fairbanks X"
Microsoft Flight Simulator X (SP2, Acceleration Pack or Gold Edition) or Lockheed Martin Prepar3D V1-V3
Windows XP, Windows VISTA, Windows 7 (fully updated)
3.0 GHz processor (Dual Core processor or equivalent system recommended)
.net Framework 3.5 or higher
2 GB RAM (4 GB recommended)
3D Graphics Card with minimal 256 MB (512 MB recommended)
Download-Size: 1,2 GB
Installations-Size: 2,6 GB

System requirements for FS2004:
Microsoft Flight Simulator 2004
Windows XP, Windows VISTA, Windows 7 (fully updated)
3.0 GHz processor (Dual Core processor or equivalent system recommended)
.net Framework 3.5 or higher
2 GB RAM
3D Graphics Card with minimal 256 MB
Download-Size: 300 MB
Installations-Size: 600 MB