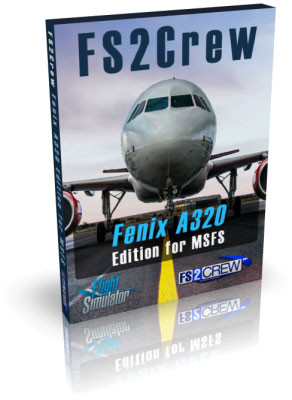 Download
Price incl. 20% VAT
Available as instant download
Article number:

AS15952

Manufact./Publisher:

FS2Crew
Starting flying the Fenix Airbus A320 for MSFS like a real Airbus Pilot with this exciting new...
more
Product information "FS2Crew: Fenix A320 Edition MSFS"
Starting flying the Fenix Airbus A320 for MSFS like a real Airbus Pilot with this exciting new expansion pack from FS2Crew! FS2Crew adds a voice and button controlled flight crew to the Fenix Airbus with multiple international voice sets.

The ultimate "Must Have" crew simulation for the Fenix A320 for MSFS has just landed!

Featuring the latest updated version of the Airbus SOPs, this new crew simulation custom designed for the MSFS Fenix Airbus is one of our best yet!

It features the latest FS2Crew advances, such as mobile device support and SimBrief Integration. It also supports Virtual Reality mode out-of-the-box via MSFS Tool Bar integration, along with a host of other exciting features.
Delivery method: Digital download only via the FS2Crew Product Manager!

Overview:
Professional Airbus airline Flight Crew simulator addon for the Fenix A320
Interface options: VOICE CONTROL, BUTTON CONTROL, AUTO-RESPOND
User assumes the role of the CAPTAIN / PILOT FLYING
Simulated First Officer assumes role of PILOT MONITORING
Procedures modeled: REVISED STOCK AIRBUS SOPS
Voice sets: US, UK, EU (GERMAN)
Purser and FA Cabin PAs PURSER and FA CABIN PAs modeled
Features:
Direct integration into the MSFS on screen Toolbar via the FS2CREW COMMAND CENTER
SIMBRIEF integration
Mobile device networking support
On screen helper panels makes learning the software a breeze: All information needed to fly is now directly displayed on screen via the new INFORMATION CENTER, CHECKLIST ASSIST, FLOWS ASSIST and COMMAND ASSIST PANELS.
PUSH TO TALK KEY option
PREDICTIVE CAPTAIN PA system for Button Control users
New AUDIO system
Updated speech recognition system for better results and improved recognition
MANUAL FLOW SELECTOR panel allows users to manually trigger FO flows
Program is now an .exe that runs outside of MSFS. NO MORE PANEL.CFG EDITS
Ability to MIX FLIGHT CREW ACCENTS (example, you can pair a British FO with a German Captain)
New VISUAL STATUS DISPLAY INDICATOR
New optional interface method: AUTO RESPOND
Button control actions now accessible via easy DROP DOWN MENU INTERFACE
Users can access and manually change sound files
And more!
Current limits:
We cannot currently set specific airspeed, heading and altitude values in the Autopilot panel due to current technical limits. When this limit has been overcome, we will update the software accordingly.
Related links to "FS2Crew: Fenix A320 Edition MSFS"
Microsoft Flight Simulator (2020)
+ Fenix Airbus A320
Windows 10 or 11 (64 Bit with latest updates)
.NET Framework 4.7.2 or later
Active Internet connection
Requirements to use optional Voice Control Interface Option:
Microphone
The following Windows Speech Recognizer languages are supported: English (United States, United Kingdom, Australia, India, Canada)
If not voice control capable, users may still use Button Control or Auto Respond modes
IMPORTANT: The installation and activation runs only via the FSCrew Product Manager:
Download your product via the FSCrew Product Manager (you'll see the shortcut on your desktop)
After the product has finished downloading via the Product Manager, the installer for your product will auto-run
Enter your serial code on the Registration screen to activate the product