Download
Price excl. VAT
Available as instant download
Article number:

AS14363

Manufact./Publisher:

Aerosoft

Developer:

Michael Cependa

Language:

English/German

Current version:

3.0.0.1 (P3D V4)
The Douglas DC-8 was one of the aircraft that brought long distance air travel to the masses. It...
more
Product information "Douglas DC-8"
The Douglas DC-8 was one of the aircraft that brought long distance air travel to the masses. It made transatlantic air travel possible for a much larger group of people, thus making the world a much smaller place. Commercially it was successful up to 1972 when wide bodied aircraft like the B747 took over its place. There were many variants and once in a blue moon you still see the "Old Smokey" carry cargo. Old Smokey was just one of the many nicknames the aircraft was given by pilots that loved flying them. DC Late, Greasy8, Death Cruiser, Whiney Bird and Cigarette Jets were others.

For a long time, we lacked these important aircraft in our simulators but this add-on adds a version to your virtual hangar that is not only looking and sounding good, but also offers a good system depth. Every real pilot will enjoy navigating by VOR and NDB and manually managing the four finicky power plants. It is hard work but the DC-8 will reward you with great handling.

It's time to forget about MCDU, FMS and FADEC and go back to real flying, complete with instruments with needles and a sturdy but steady hand on the throttles and stick.
Features:
Simulation of a 50 series DC-8 passenger airliner with a focus on normal procedures
3D model of the exterior with animated flight surfaces, reversers, landing gear, four exits and two cargo doors
Virtual cockpit model with detailed simulation of instruments and controls at the pilot's, first officer's, and flight engineer's positions
In-depth simulation of more than 10 aircraft systems
Visual rain effects on cockpit windows using TrueGlass technology by TFDi
P3D V4 version includes dynamic landing, taxi, and ground floodlights that illuminate objects
Cockpit lighting including main panel, pedestal, and engineer's panel floodlights, dome light, panel back lighting, and instrument gauge lighting
Instrument gauge lighting has four selectable levels of intensity
Engine and other sounds by Turbine Sound Studios including start-up external air cart sound
Radar display showing terrain with three ranges selectable
Loader utility to add and remove passengers, cargo and fuel
Detailed engine simulation with accurate EPR readings to set power for takeoff, climb and cruise
Detailed performance tables to determine V speeds, power settings, takeoff trim, manoeuvre and stall speeds, and more
Custom icing code will cause airframe ice accumulation to increase drag and degrade lift while de-icing will gradually remove effects of ice
INS waypoints may be manually inserted, or simply by loading a standard FSX flight plan
INS simulation is very detailed with random drift, DME updating, realistic or fast alignment and more
A cold and dark state is available at any time using the pop-up loader utility
---
Awards/Reviews: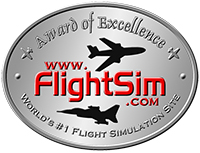 Conclusion by FlightSim.com:
"If you're into the early days of jetliners and want an aircraft which faithfully models the systems of the time, then this is definitely an aircraft worth exploring. Likewise, if you're a modern heavy metal flyer who's thinking about delving into something a little older, then here too, the DC-8 becomes highly attractive.
Flying the Aerosoft DC-8 has been an absolute joy, and is an aircraft I highly recommend flying!"
Related links to "Douglas DC-8"
Microsoft Flight Simulator X (SP2), FSX: Steam Edition or Lockheed Martin Prepar3D V4
Microsoft Windows 7 / 8 / 10 (64bit)
CPU: Dual-Core with 2.6 GHz (Quad Core highly recommended)
RAM: 4 GB RAM
Graphics card: 3 GB VRAM, DirectX 11
Disk space: 1.1 GB free disk space (SSD highly recommended)
Resolution: 1920x1080 (Full HD) or higher
Download-Size: 350 MB (FSX/FSX:SE) and 410 MB (P3D V4)
Version 3.0.0.1 (only P3D V4):
New setup, supported all updated files
Version 3.0.0.0:

Added automated Flight Engineer
Improved altitude hold at slow speeds
Version 2.1.0.0:

Added 2D popup autopilot panel
Minor optimiazion of VC model
Adjusted material settings of radio frequency glass to make digits more visible in sunlight
Fixed animation of landing light extension/retraction to require electrical power
Version 2.0.0.0 (only P3D V4):

Added cargo model and associated liveries: United, Fine Air, LAC, AIA
Added gsx.cfg files for passenger and cargo versions in the DC-8_50 folder, you must rename the files to switch to the cargo version
Updated paint kit for cargo version
Further improved tank selection initiation
Fixed reverser animation so they will not animate when engine not running
Connected take off warning to engine three throttle in addition to engine one
Corrected fuel pressure gauges so boost pumps don't create pressure from empty tanks
Fixed fuel flow gauges to not show fuel flow before valves turned on during start
Added pop-up for control of external air, external electrical power, and cargo doors, "Shift 5" to access
Updated loader pop-up to accommodate both passenger and cargo variants
Changed clocks from local time to GMT
Changed heading select coding to allow external nav apps to control aircraft heading
Fixed bug causing hydraulic problems when cold and dark flight saved
Corrected animation of PT probe heaters switch and associated text on overhead
Version 1.03:

Transponder code digits no longer go above 7
VOR idents now can be turned on and off with VC switches or key commands (For ADF ident on/off please use VC switches only)
Additional VC performance optimization
Scanair livery added
Texture mapping on rear fuselage fixed (fixed on 1.02, but not reported then)
Cold and dark now turns nav light switch off
Engine starter code rewritten for some users having problems with starts
Comm frequencies now display correctly when radios off or in standby mode
Fixed fuel tank selection not initiating correctly for some users
AP master switch animation is faster
Transponder mode switch set to "C"
Fixed missing INS markings on overhead light map texture
Better steering wheel texture
Brightened exterior non-dynamic landing and taxi lights to match view from VC
Version 1.02:
XMLTools.64 installer - included
Fuselage shading error - fixed
Right side (no.2) INS not drifting - fixed
Engines not starting for some users - fixed
Marker receiver switch on audio panel missing click spot - fixed
INS Accuracy Index degrades too fast - fixed
INS Hold button not working - fixed
Missing smoke effect - fixed