Download
Price excl. VAT
Available as instant download
Article number:

AS10528

Manufact./Publisher:

Aerosoft

Language:

English/German

Current version:

1.20
The Bell UH-1 is without a doubt one of the best known helicopters to most people. It was...
more
Product information "Huey X"
The Bell UH-1 is without a doubt one of the best known helicopters to most people. It was imprinted in our culture by the moving images from the Vietnam War were it changed the face of warfare. And it never left as thousands are still flying in every corner of the world.
Fifty years after it first flew it is still in production and that's something no other helicopter can claim. The characteristic sound of the two-bladed rotor can be heard over jungles and city centers. Even though it has only one engine it is very reliable and rugged. A workhorse that's not afraid to get dirty and will fly just as happy with a few pounds more than the manual states it can carry. It's loved by the pilots and the crew that maintain the old airframes. It's the Huey.
Features:
Includes military UH-1H (or German UH-1D) and civilian Bell 205 A-1 models
Highly accurate flight model (using a separate module to correct the limited helicopter flight model of FSX). Please note that vortex ring state (VRS) is NOT included because the Huey does not suffer from this dangerous condition.

Torque induced yaw added
Stabilized rotor head simulation added
Control travels in hover and cruise flight corrected
Tail rotor effectiveness corrected
Retreating blade stall added
Control effectiveness depending on hydraulics pressure added

Highly detailed systems making a realistic (within FSX limitation) use of all checklists possible
Immersive sound set with many additional sound module for virtual cockpit sounds
Very detailed external model with many animations
Fully useable and detailed (±250.000 polygons) virtual cockpit
All 3D gauges with custom programming
Extensive manual (checklists available in format for smartphones)
Easy select of "Cold and dark" and "Ready to go" mode
Innovative lighting systems (including steerable searchlight)
Created with the help of German Bundeswehr pilots
---
Awards/Reviews:
Conclusion by PCPilot.net:
"Overall, Aerosoft has made a good effort with the Huey X. Visually both the cockpit and the external model are both well detailed. The systems are realistic enough to keep you busy, particularly if you start it from a 'cold and dark' state which will suit the hard-core flight simmer. Alternatively you are given the option to load it with all systems running – ready to fly."

Conclusion by the PC Pilot Magazine - Issue Sept/Okt 2011:
"Visually Aerosoft's Huey looks great. The flight model is realistic and the virtual cockpit is functional. Although some systems are not fully replicated in detail, this simulation is still great to fly."

www.pcpilot.net
Winner of the simFlight Awards 2012 - Category: Helicopters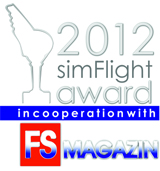 View all results
Additional downloads:


PDF Manual (English): >> View here <<


PDF Checklist: >> View here <<


PDF Checklist for smartphones: >> View here <<
Related links to "Huey X"
Microsoft Flight Simulator X (SP2 or Acceleration)
Windows XP / Vista / Windows 7 with the latest Service Packs (Vista not recommended)
Intel Core 2 Duo CPU (2 x 2666 MHz) or equivalent (Core 2 Quad CPU recommended)
2 GB RAM
DX9 Graphic Card with at least 512 MB
Mouse with mouse wheel
Joystick with throttle (rudder pedals recommended)
Please note that Huey X is designed to work with default assignments of joystick axes.
Download-Size: 80 MB
Installation-Size: 410 MB