Download
Price excl. VAT
Available as instant download
Article number:

AS11388

Manufact./Publisher:

Aerosoft

Developer:

Marcel Felde

Language:

English

Current version:

1.04
The DA20-100 Katana is proof of the old saying "what looks good, flies good". It is a cutting GA...
more
Product information "Diamond DA20-100 Katana 4X"
The DA20-100 Katana is proof of the old saying "what looks good, flies good". It is a cutting GA aircraft made out of fiber-reinforced composites. Originally designed to be a training craft it is now flown by a lot of private pilots who enjoy the wonderful flight dynamics and its economical costs.
This aircraft for FSX has one of the most impressive lists of features of any product we ever handled. It really makes you feel like owning the aircraft as you got to do the maintenance, cleaning and even decide what oil type to use. If any product made Microsoft slogan "As real as it gets" come true it got to be the Katana!
Features:

Modes:
Realistic - Wear and damage can encounter and will be stored. Fluids will be used and the aircraft can get dirty. Maintenance and services are available. Flight hours and landings will be counted and special features unlocked.
Simple - No wear and damage will be simulated. Aircraft stays clean. Flight hours and landings are not locked. No special features.
Instructor - Aircraft is as new every reload. Wear and damage can encounter or be triggered but will not be stored. Fluids will be used and the aircraft can get dirty. Flight hours and landings will not be counted and no special features are available. Instructor Panels are available.
Airframe:
Airframe limitations are simulated
Trim tabs can be bend on ground
Controls can get damaged
Controls can freeze
Flaps can get damaged - Flaps motor can get damaged - Wheel fairings can be attached/detached
Wheel fairings can get damaged
Aircraft can get dirty
Canopy can be opened and closed
Canopy can be opened and closed by airflow
Canopy opens if flying down under or due accelerations if not locked.
Canopy locking mechanism
Canopy can break off
Canopy can get covered by ice
Elevator can get damaged by canopy
Cowling can be opened
Oil access door can be opened
Fuel tank cover can be opened
Wheel fairings reducing drag
Engine (Rotax 912S):
Engine damage and wear
Engine cooling by air and fluid
Carburetor simulation
Carburetor can get plugged
Carb Heat - Starter simulation
Starter can get damaged
Starter low voltage simulation
Engine start due wind milling
Engine Start due turning the propeller by hand
Choke simulation
Engine wind milling
Damage when engaging starter also engine is running
Pulled Choke with warm engine stresses engine
Cold engine may run better with pulled choke
Propeller:
Propeller damage and wear
Propeller governor simulated - Propeller ground contact
Propeller damage by dust
Propeller can be turned by hand
Propeller pitch change by hand
Oil System:
Oil usage simulated
Two sorts of oil: SAE20 / SAE40
Oil quantity check
Turning propeller or running engine draws oil out of the cylinders
Oil Filter
Oil temperature and pressure simulation
Oil loss without cap during turns
Oil access door animation if left open due wind
Oil can be drained
Fuel System:
Carburetor simulation
Fuel pumps and pipes simulation
Fuel in pipes can be burned
Fueling simulation
Fuel dip stick
Fuel tank cover
Water in fuel
Water draining
Fuel lead simulation
Fuel type selection
Fuel pump may be needed above 13.000 ft
Electrical System:
Complex battery simulation
Complete electrical circuits
Switches
Relays
Circuit breakers
Generator simulation
Generator wear and damage
Displays flicker and brightness
Electrical power on starter simulated
Instrumentation:
3d Gauges with smooth animations
Needle movements and vibrations simulated
Gyros simulated
Attitude Indicator simulation
Compass card simulation
Wet compass acceleration and turning error
Pitot tube and static port simulation
Pitot tube, static port and stall warning can get plugged
Avionics:
Units operation simulated: Navigation and Communication is only possible with operating devices
Simple mode: Units can be operated in simple mode for being compatible with hardware
KX125 TSO

Unit can be turned off
Unit has circuit breaker
Unit can be damaged
Frequencies are stored
Standby frequencies
Engaging direct frequency control due holding the transfer buttons
Modes: CDI, BRG and RAD
Auto-TO
Independent OBS display

KT76A

Unit can be turned off
Unit can be damaged
Unit has circuit breaker
Transponder warm up simulated

GPS500 (FSX default) off

Unit can be turned off
Unit has circuit breaker
Brightness can be adjusted

GNS530 (by Reality XP, not included in the product)
GPS500 can be replaced by the GNS530 directly in the simulator
Environment:
Cabin temperature simulated
Cabin airflow simulated
Wing icing
Stall warning icing
Controls icing
Canopy icing
Pitot and static port icing
Dirt
Insects
Visual Effects:
Motion and vibration effects
Aircraft and parts influenced by propeller wind
Realistic and switchable lighting effects
Adjustable panel lighting
Bump mapping on exterior and virtual cockpit
Sound Effects:
Complex sound environment
Every lever, switch has its own sound
Graphical User Interface:
All settings can be done in FSX
Preflight Panels:
Ground equipment and fixation
Tow bar
Walk-around check
Trim tabs
Fuel station, fuel drain and dipstick
Oil and liquids
Payload
Aircraft cleaning
Maintenance Panels:
Equipment: Change avionics or attach/detach wheel fairings
Workshop: Inspection, repairing or replacing parts and systems
Service: Replace or refill liquids, replacing or reloading battery etc.
---
Awards / Reviews:

Conclusion by the PC Pilot Magazine, Issue Sept/Oct 2011:
"As if the aforementioned features weren`t enough, Aerosoft thought to include an `Instructor` mode which is a nifty utility that allows an instructor to use a second monitor to selectively fail or degrade aircraft systems and indicators. The ability to pop circuit breakers, open relays, induce mechanical failures, and to otherwise challenge students, vaults the Aerosoft Katana 4X from pure entertainment software, to being a useful training tool for students. The all-round attention to detail, additional features, and polish of this aircraft make it worthy of exceptional praise."

www.pcpilot.net
Winner of the simFlight Awards 2012 - Category: General Aviation, Gliders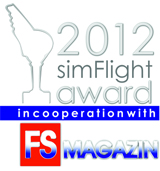 View all results

Conclusion by MutleysHangar.com:
"I`ve thoroughly enjoyed reviewing this add-on and it is a fantastic addition to your flight sim hangar. You need to bear in mind that it is a complex aircraft (unless you run it in simple mode) and it may not be the best add-on for the more casual simmer. If you are unsure you can download the manual prior to purchase to get an idea of what to expect. I did experience some teething problems which will hopefully be addressed in a service pack, but the support available via the Aerosoft forums was a great help in sorting any problems. A tutorial flight would have been welcome and is a glaring omission from such a well packaged product. I`m happy to award the Aerosoft Diamond DA20-100 Katana 4X"
Conclusion by Flightsimulatornetwork.com:
"...I really loved this aircraft and especially like that if you treat it badly, systems will fail and they will have to be repaired or replaced. These functions are simulated with this product which greatly adds to the experience. The only thing that I would like to see added in a future update is some form of monetary system so the virtual pilot can see how much it is costing to operate the Katana. This is very minor and would just add to a very realistic and enjoyable experience. If you mostly fly long cross country flights in IFR or night conditions then the Aerosoft Katana probably is not the aircraft for you. This aircraft is only certified for daytime VFR operations and is primarily designed for flight training and short flights. I want to thank Aerosoft for providing me with the review copy of the Katana."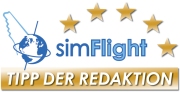 Conclusion by simFlight.de (german):
"...Auch wenn der Preis gegenüber der Vorversion deutlich gestiegen ist, sind die 27,95 Euro absolut gerechtfertigt und gut angelegt. Wer ein modernes Sportflugzeug mit viel Systemtiefe sucht, bekommt mit der Katana 4X ein Addon, das in der Königsklasse angesiedelt ist und keine direkte Konkurrenz hat. Für ernsthafte GA-Flieger unbedingt empfehlenswert!..."
Related links to "Diamond DA20-100 Katana 4X"
Microsoft Flight Simulator X (SP2 or Acceleration)
Windows XP / Vista / Windows 7 with the latest Service Packs (Vista not recommended)
Intel Core 2 Duo CPU (2 x 2666 MHz) or equivalent (Core 2 Quad CPU recommended)
2 GB RAM
DX9 Graphic Card with at least 512 MB
Mouse with mouse wheel
Download-Size: 180 MB
Installation-Size: 600 MB