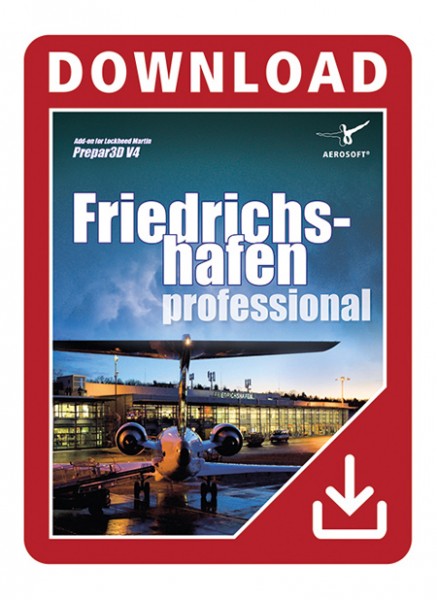 Download
$14.99 *
$19.99 *
(25% Saved)
Price excl. VAT
Available as instant download
Attention:
Not in conjunction with other discounts.
*1
*1 Offer valid until 01/03/2020
Article number:

AS14166

Publisher:

Aerosoft

Developer:

German Airports Team

Language:

Deutsch/English

Current version:

1.10
The airport Friedrichshafen is now "ready for departure" in Prepar3D V4. In good tradition, the...
more
Product information "German Airports - Friedrichshafen professional"
The airport Friedrichshafen is now "ready for departure" in Prepar3D V4. In good tradition, the award winning German Airports and Peter Hiermeier team provide this scenery of Friedrichshafen in a stunning quality.

This scenery represents the latest status of development of the real airport. The buildings, the layout of the runways and taxiways as well as the Navaids are exactly as they are in reality.

A photo real ground texture has been used for the base of the scenery to ensure a real life feeling of the airport. Being a native Prepar3D V4 add-on, German Airports - Friedrichshafen professional also includes dynamic lighting and more, improves lights while maintain a good performance. Additionally, a Zeppelin is flying over Lake Constance between Spring and autumn, bringing the whole location to a virtual life!

Many years of experience in creating virtual airport sceneries have once again paid off and can be seen in the new masterpiece of Friedrichshafen Airport which not only convinces with its rich details but also with a terrific frame rate.
Video:
Features:
Detailed representation of the airport and close surroundings, incl. important objects
High resolution photorealistic ground textures, based on aerial images
Authentic 3D models of all airport buildings and facilities
Including all navaids (ILS,VOR/DME,NDB,ATIS)
Amazing night effects
Fully acurate runway and taxiway lights
Dynamic vehicles on the aprons and motorways by AESLite
Many scenery effects
Seasonal ground textures
Complete manual (German, English) with additional information about the airport
New in version P3D V4:
All code (BGLs) compiled with P3D V4 SDK, using new material options and being performance optimised to the new engine
All objects optimised for new shadow technology
Ground layout including detailed aerial image following P3DV4 SDK
Automatic seasonal changes of relevant 3D objects based on V4 scripting variables, also for snowfall outside winter season
New, individual ground adaptations to prevent steps at airport borders when using different meshes (e.g. default/FTX Global)
New, optimised 3D runway lighting with activation/deactivation based on time of day and weather conditions
Apron lamps with new effects and dynamic light
Changed AFCAD approaches at Airac 1708
Animated Zeppelin NT flying over Lake Constance between spring and autumn
---
System requirements:
Lockheed Martin - Prepar3D V4.x
Microsoft Windows 10 (64bit)
CPU: Quad Core with 3,5 GHz
RAM: 16 GB DDR4 RAM (2666 MHz)
Graphics card: 4 GB VRAM, DirectX 11
Disk space: 270 MB free disk space
Download-Size: 190 MB
Related links to "German Airports - Friedrichshafen professional"
Owners of "Friedrichshafen X" have the possibility to use our cost saving upgrade service:
Friedrichshafen X (Download or Box) = > German Airports - Friedrichshafen professional (Download):
3,99 € incl. 19% VAT (3,35 € ex VAT | Price incl. VAT may deviate depending on your local sales tax [VAT]). Please enter your old serial key of "Friedrichshafen X" in the voucher field at the checkout.
Version 1.10:
Deleted Cart Bahn Area
New Buildings southwest on the Airport aerial, like Comptetence Park, DHL and others
New ILS GP West
New Messe Area Buildings
Modified aerial image
New harbour area
Terrian north of Airport fixed
Reduced Brightness of Taxiways at Night
Optimized Runwaylights to remove color anomalies
Missplaced Streetlights fixed
New Configtool and Add-on.xml Activation
FTX GES Season Switch optional